If you are not happy with Windows 10 due to Privacy concerns, you can use a freeware tool O&O ShutUp10. For everyone, it is not possible to keep Windows 10's privacy issues under control, hence you need a third party app.
We have already covered about various tools that let you stop spying of Windows 10 : Win10 SpyStop, Privacy Hide, Ashampoo AntiSpy, Windows Privacy Tweaker, W10Privacy, Windows Tweaker, Destroy Windows Spying, Ultimate Windows Tweaker, Win10 Security Plus, Win10 Wizard, Win.Privacy, etc.
ShutUp10 is designed to stop Microsoft from collecting certain data. The software simplifies the process, and one can set all recommended settings with a few mouse clicks.
ShutUp10 is a free and portable tool, means there is no need to install it. You can carry it in a USB disk also.
It is only compatible with Windows 10 and needs .NET Framework to run. Since it makes changes in your operating system, it needs administrator privileges.
When ShutUp10 is launched, you will see a simple graphic user interface. This program lets you turn off around 50 settings of Windows 10. These are grouped into several categories, and these includes :
Security
Windows Defender and Microsoft SpyNet
Privacy
Synchronization of Windows Settings
Cortana (Personal Assistant)
Location services
User behavior
Windows Update
Miscellaneous
Clicking on any option gives you more details about that.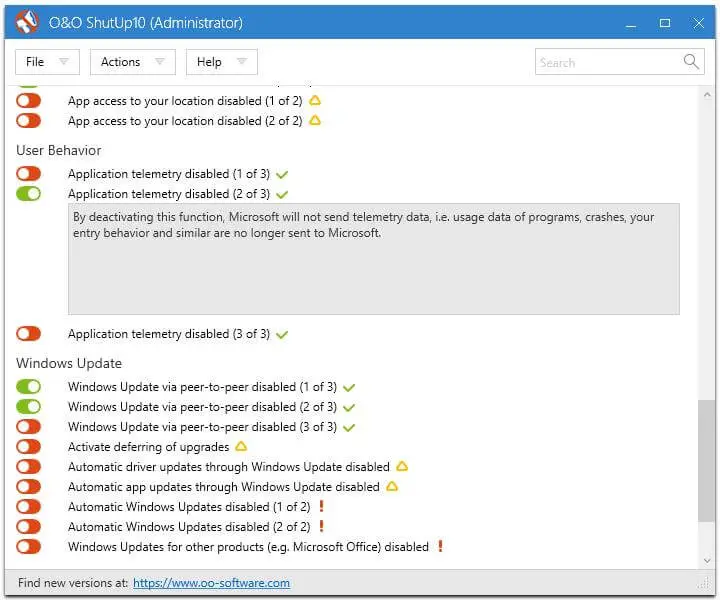 If you don't know what to disable and what to enable, you can always choose recommended settings.
This tool also let you create a system restore point, in case something goes wrong, you can restore your PC. Furthermore, there is an option to make factory Settings. If you are not happy with recent changes, you can always undo the changes.
To easily get Windows 10 under control, the O&O ShutUp10 may the right choice for you. You can download this useful tool from here.