Prestigio MultiPad RANGER 8.0 4G can be purchased in Armenia, Austria, Azerbaijan, Bahrain, Belgium, Bosnia and Herzegovina, Bulgaria, Canada, Croatia, Cyprus, Czech Republic, Denmark, Estonia, Finland, France, Georgia, Germany, Greece, Hungary, Ireland, Israel, Italy, Kazakhstan, Kuwait, Kyrgyzstan, Latvia, Lebanon, Lithuania, Luxembourg, Macedonia, Moldova, Montenegro, Netherlands, Norway, Poland, Portugal, Qatar, Republic of Iraq, Republic of Yemen, Romania, Serbia, Slovakia, Slovenia, Spain, Sweden, Switzerland, Tajikistan, The Kingdom of Saudi Arabia, The United Arab Emirates, Ukraine, United Kingdom and Uzbekistan through the company official store with RRP of €199.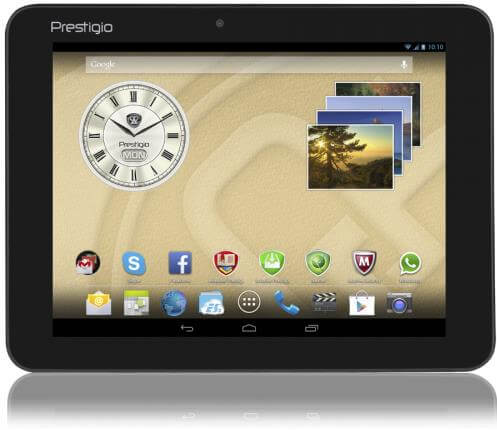 The Prestigio MultiPad RANGER 8.0 4G is powered by a 1.2Ghz Quad Core Qualcomm MSM8926 ARM Cortex A7 processor, coupled with Qualcomm Adreno 305 GPU and 1GB of RAM. The handset features an 8-inch IPS LCD HD (1024×768 pixels) touchscreen display with G-Sensor.
The MultiPad RANGER 8.0 4G comes with 8GB of internal storage, and further expandable via an external memory card of 32Gb capaicity. In terms of connectivity options, the device includes 3G HSPA+, 4G LTE, Wi-Fi, Micro USB 2.0, Bluetooth 4.0 LE and 3.5 mm mini jack. It houses a 5 Mpixel rear camera and also a 2 Mpixel front camera onboard.
The Prestigio MultiPad RANGER 8.0 4G runs on now-dated Android 4.3 (Jelly Bean) OS and packs a Lithium Ion Polymer battery of 4300mAH capacity. It has built-in devices Microphone, Card Reader, GPS reciever, FM radio and Speaker.
Key specifications of Prestigio MultiPad RANGER 8.0 4G :
1.2Ghz Quad Core Qualcomm MSM8926 ARM Cortex A7 processor
Qualcomm Adreno 305 GPU
1GB RAM
8-inch IPS LCD display with G-Sensor
1024×768 pixels resolution
8GB ROM
3G HSPA+, 4G LTE, Wi-Fi, Micro USB 2.0, Bluetooth 4.0 LE and 3.5 mm mini jack
5-megapixel rear camera
2-megapixel front camera
Android 4.3 (Jelly Bean) OS
4300mAH battery