Antivirus is a media to protect the PC, but every work can not be done by the antivirus. Almost every people keeps installed antvirus, but still virus, malware and trozen are moving from one PC to another. The best media to move these unwanted programs are flash drive. Pen drives gets easily infected by autorun viruses and while some one plug in his PC, it easily infect his system without knowing him actually.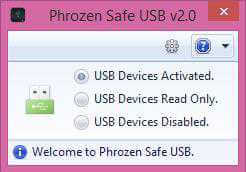 Phrozen Safe USB is a tiny tool that allows you to control your USB Device Status. Normally an USB Device is rather unsafe because it is designed to interact with your computer. With Phrozen Safe USB you can make your USB Device fully operational, can set it in read only mode (can't modify/write) or you can disable USB Device altogether in just one click from the tray.
Phrozen Safe USB is free utility and also comes with easy user interface. It is portable app and a novice person can also use it. It's presently latest version 2.0 is available, and can be downloaded from the link which is provided at the end of the article. It is hardly 1.5MB in size.
There are three options available in Phrozen Safe USB software : USB Devices Activated, USB Devices Read Only and USB Devices Disabled. After running the tool, it sits on system notification tray. Just write click on the Icon of Phrozen Safe USB freeware utility and select the desired option.
Another best part of this Phrozen Safe USB tool is, you can password protect your device also. Password protected USB drive can not safe from the viruses and malware only, but it also safe from bad eyes also.