After Mitashi PLAY Senior Friend, now for senior citizens Philips Xenium x2566 is also available. The company has priced it at Rs 5537 for India, however, eBay reseller selling it with a price Rs 5000.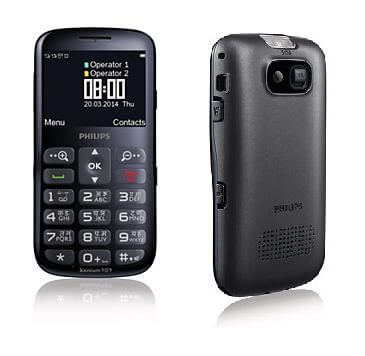 THe Philips Xenium x2566 comes with big buttons and fonts, high volume speaker, superb standby time and even a dedicated SOS button are designed to be easy to use and for greater peace of mind.
It allows you to turn your phone into a convenient magnifying glass whenever you're caught out by tiny print. Hover the display screen of your phone above the selected text, whether it's a restaurant menu, a service brochure or even your daily newspaper and the digital text magnifier will blow it up to a large easy-to-read format.
The Philips Xenium x2566 also features a dedicated SOS button. It allows you to identify a maximum of three different numbers where you can get immediate help when emergencies occur. When you activate the SOS button, the phone will automatically connect to these numbers until your call gets answered by any one of the parties. This life-saving design means that you can retain your independence while maintaining easy access to immediate assistance in case you need help.
The phone can also converted into flashlight with a single button. As far security concerned, a single press of the button will lock all functions and prevent accidental key presses when carrying it around, with the exception of the SOS call, flashlight and digital magnifier features in case of emergencies. To unlock the phone, all you have to do is toggle the button.
In terms of specs, the Philips Xenium x2566 measures 124.5 X 64.9 X 16mm and weighs 108.8gm. The handset is available in only blue colour, and sports a 2.4-inches TFT (320×240 pixel) display with 262K color depth. It has 4MB internal storage, which is expandable with upto 16GB of memory card.
The Xenium x2566 is a dual SIM phone, supports Bluetooth V2.1 and packs a 1630mAh Li-ion battery, which is rated for 20 hrs of talk-time and 1 month standby time. At the rear of the device, a VGA camera is also available for fun.