Microsoft's Windows 10 Anniversary Update is the latest upgrade from the company and are perfect in both ways, including performance and look. Almost all are happy with changes, but some may not, and are missing something from the previous version of operating systems.
One of the major improvement in Windows 10, is the File Explorer. Some users prefer the Windows 7 file explorer over the Windows 10 version. With the help of a freeware tool, OldNewExplorer, it is possible to make changes in the look of Windows 10 File Explorer.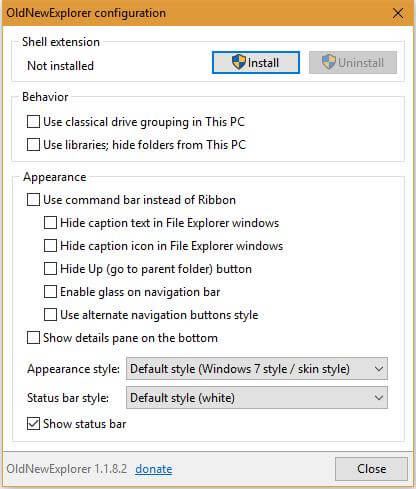 After downloading, extract it in a folder. Run the setup file, to install it click on Install button. Once installed, you can make the changes in Windows 10 file explorer, similar to Windows 7.
There are several tweaking options available in this program. If you don't love, you can easily change it by clicking on, "Use command bar instead of Ribbon".
OldNewExplorer is totally free, simple to understand and easy to use. If you are missing Windows 7, you can use the OldNewExplorer app. You can get it from here.