Microsoft has launched a feature phone in India, called it Nokia 130 Dual SIM, and priced at Rs 1848 in official online shop, however, it can be purchased with a lowest price Rs 1750 at snapdeal.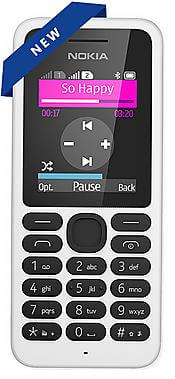 The Nokia 130 Dual SIM (GSM + GSM) comes with with built-in video and music player and also supports Dual SIM. It sports an 1.8″ (4.57 cm) (160 x 128 pixels) TFT display and runs on Series 30+ OS. The handset features FM Radio and Bluetooth 3.0 with SLAM, that enables content sharing between phone to phone which comes equipped with Bluetooth. It has also a Numeric Keypad for typing the text and to listen the music FM Radio.
The Nokia 130 Dual SIM supports 2G connectivity, but doesn't allow to connect to internet, since it does not have browser. It is equipped with micro SD card slot, which can be upgraded with up to 32GB. It comes with built-in LED flashlight on the back.
The phone packs an 1020 mAh battery, which is according to the company provides 13 hours talk time, up to 26 days of standby, up to 46 hrs of music playback and up to 16 hrs of video playback. It measures 106 x 45.5 x 13.9 mm and weighs 67.9 gm.
The Nokia 130 Dual SIM is available in Red, White and Black variant colors. Microsoft has also listed it variant model with single SIM without price tag, means it will be soon released in India.