Nimbus Capture is powerful tool which can record computer desktop activities as well as can take screenshot.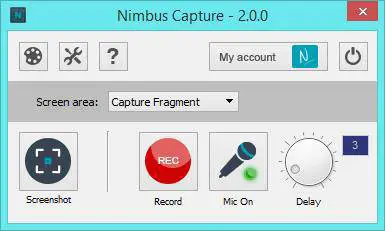 Nimbus Screen Capture comes for Windows as well as browsers and android devices too. Presently extension for Google Chrome and Mozilla Firefox is available, which can be downloaded from the link which is provided at the end of the article.
For Android devices, Nimbus Screen Capture software has been named as Nimbus Clipper. After installing the Addons of Nimbus you can easily click the browser screenshot.
It allows you to take the entire browser or desktop screenshot as well as also allows you capture the selected screen. After taking the screenshot you can either save it to PC or you can print direct without saving actually to the computer.
In Windows PC after installing the setup file, it sits to the taskbar. Right click on the icon from the taskbar and you can use it as desired. It comes with various useful tool. After clicking an image it opens "screen editor" and allows you to perform various modifications.
For PC, tt comes with a number of tools like Re-sizing, Magnifying glass to zoom in and out, circle tool, crop tool, pencil tool, straight tool, curved line tool, text tool, sticker tool, color tool, blur tool, undo and redo tool.
Download Nimbus Screen Capture for Google Chrome
Download Nimbus Screen Capture for Mozilla Firefox
Download Nimbus Screen Capture for Android devices