Motorola may launch soon its flagship smartphone, called it DROID Turbo. Presently there is no word of its price and availability details. The full specs got leaked through a manual.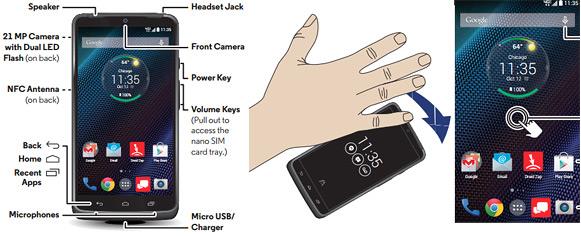 According to the manual, the Motorola DROID Turbo houses a 21MP camera with dual-LED flash and 2160p video capture. While there is also a 2-megapixel front-facing camera is available for video calling and selfie.
It sports a  5.2″ big touchscreen with QHD resolution (2,560 x 1,440 pixels). It will support Moto Display – notifications of messages, calls and more show up on a sleeping display without wasting much power. While Moto Display is on you can use Moto Actions to wave over the phone to check the new message. Moto Voice is also on board with for always-on voice commands.
The Motorola DROID Turbo is powered by a Snapdragon 805 chipset – 4x Krait 450 CPU @ 2.65GHz, coupled with QUalcomm Adreno 420 GPU and clubbed with 3GB of RAM. The phone also comes with 32GB of built-in storage, but unfortunately there is no word about a microSD card slot.
The Motorola DROID Turbo runs on the latest Android 4.4.4 KitKat OS. In terms of connectivity options, it include; Bluetooth, GPS, NFC, gyroscope, and compass.
Via | Source