Motorola's Moto X – the flagship android smartphone – is only smartphone assembled in the U.S.A, arrived in India at Rs 23,999. As per manufacturer, like Moto G and Moto E, the new smartphone will be available in India only via e-commerce website Flipkart.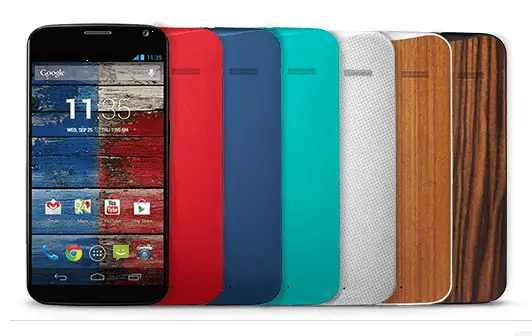 The Moto X, the latest popular phone from Motorola sports 4.7″ AMOLED (RGB) / 720p HD display alongside Corning® Gorilla® Glass. It boasts with 1.7Ghz Processor with a 2 GB RAM. It features Quad-core Adreno 320 GPU, 10MP Rear Camera as well as 2MP Front Camera.
The online re-seller is offering the Moto X variant with plastic back panel at Rs 23,999; Motorola is offering back panels in five colours, viz. black, white, turquoise, blue and red. The models with wood finish (walnut and teak) have been priced at Rs 25,999.
Magnus Ahlqvist, GM of EMEA and Asia Pacific, Motorola Mobility, statement on the launch, "We are very excited about Motorola in the Indian market and we want to bring strong propositions that completely change mobile experience for the buyers. Moto X has been very well received across markets and would continue to add to Motorola's momentum in India."
Ravi Vora, senior vice president, marketing, Flipkart says that "After the incredible success of Moto G we are quite excited to be the exclusive India partners for the Moto X launch. As always, we continue to focus on bringing the best products and a superior online shopping experience to our customers. With launches like these we provide brands access to a huge customer base spread across the country."