Motorola's Moto G – a exceptional phone with Exceptional price, big brother of Moto E, arrived India on Flipkart, with starting price Rs 12,499 for 8 GB variants, wheres 16 GB phone priced at Rs 13,999. The re-seller promises to deliver the Moto G phone in 2-3 business days.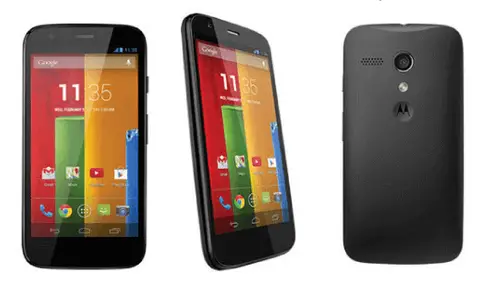 Moto G sports stunning 4.5″ HD screen alongside quad-core processor, runs on Google's Android 4.3 Jelly Beans OS. The manufacturer predicts the guaranteed upgrade to Android 4.4 Kitkat (the latest Google's Android Operating system), available with 15+ colorful backs to customise your phone.
A official videos about Motorola Moto G – the latest smartphone from its manufacture :
Moto G is compiled with Qualcomm MSM8x26 Quad-Core A7 , 1.2 GHz (Adreno 305 450MHz GPU) processor along with 1GB LPDDR2 RAM. The 4.5″ smartphone has 1280 x 720 display and boasts a 329ppi pixel density.
Coming to Moto G connectivity side, the phone supports Wi-Fi 802.11 b/g/n standards, whereas GPS and GLONASS services also featured. The 4G phone boast with UMTS 850/900/1700/1900/2100 band as well as GSM 850/900/1800/1900 are also supported. You can connect your smartphone with its Micro USB, 2.0 high speed cable. On 4G HSPA+ network you can get download speed upto 21.1 Mbps as well as upload speed upto 5.76Mbps. Whereas on 3G network, you can download a file with a speed of maximum 3.1 Mbps and 1.8 Mbps speed are supported in uploading a file.
The Moto G phone equipped with a latest Bluetooth technology version 4.0.
Since, it is a smartphone, so you will must think about a good Camera. Motorola's Moto G boast with a 5 Mega Pixel rear as well as 1.3 MP front Camera for a video calling. The phone is capable to record the video with a rate of 720p 30fps (MPEG4, H.264).
Moto G sports 65.9 x 129.9 x 11.6 mm dimension, which is 6.0 mm at thinnest point. It boast 4.5" 1280 X 720 HD, 329 ppi display with a powerful 2070 mAh battery.
Because of low budget and high performance Moto G is going to beat the smartphone market.