Micromax 300C is a CDMA Data Card, available in India via e-commerce online website with a tag price Rs 2000.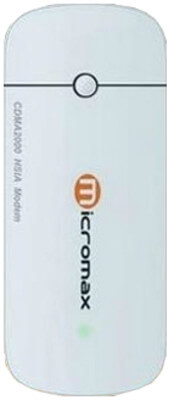 According to online retailer, the 300C is a USB modem, supports CDMA network. The device is able to work with Windows 2000, Windows XP and Windows Vista operating systems.
The 300C is a plug and play device, comes with auto installation features, can download a file with a maximum speed up to 7.2 Mbps or 5.76 Mbps upload is also possible.
The device has also built with a memory card slot, can be upgraded up to 4 GB via an external microSD card. The device supports standard 6 Pin CDMA SIM.
SMS, RF Test point, Data Modem Advantage and T-Flash Compatible is additional features of Micromax 300C dongle, according to the flipkart re-seller.
Measuring the Micromax 300C , dimension is 30.8 mm x 12.5 mm x 72 mm (W x H x D), weighs not mentioned.
The main features and specifications of Micromax 300C CDMA :
CDMA
3G
7.2 Mbps downlink, 5.76 Mbps uplink
Dimentions : 30.8 mm x 12.5 mm x 72 mm (W x H x D)
Weight : Not mentioned
Price : Rs 2000