Maxx has listed a feature phone MSD7- MX2801i officially with a tag price Rs 1707. The company has already launched AXD21 MSD7 smartphone in India with a price Rs 4020.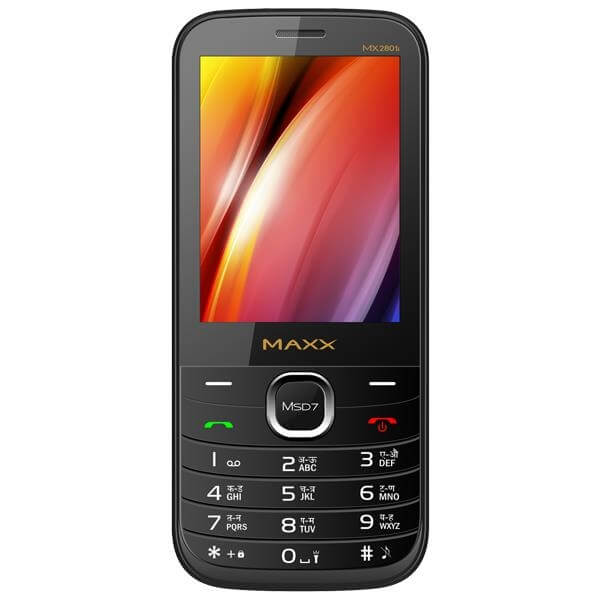 The Maxx MSD7- MX2801i is a Dual Sim (GSM + GSM) phone, sports a 7.1 cm (2.8″) TFT Display and 252k colour depth. It measures 128.62*56.94*13.01mm dimension, while weight is 99.50 gm.
MSD7- MX2801i is a multilingual cellphone comes with English, Hindi, Gujarati support. It features 2G GSM-900/1800 Mhz frequency bands.
The handset can store 300 phonebook entry and 100 SMS. Its memory can be expanded up to 8GB via an external micro SD card. Bluetooth, WAP/GPRS, 3.5mm audio-jack and USB as a mass storage are main connectivity options. It is available in Black or Blue with Black variant colour.
SMS on call reject, Auto redial, Speed dial and Auto call record are additional features of Maxx MSD7- MX2801i. It comes with 1.2MP rear camera, and there is no front camera available. You can also enjoy Sokoban game as well as FM radio. Antitheft, Privacy protection, Phonelock and Blacklist are security features in MSD7- MX2801i phone.
It is powered by a 1500mAh battery, which is rated to deliver Standby Time 400~450 Hrs or Talktime up to 5-6 hrs.
The main specifications of Maxx MSD7- MX2801i :
Model: MSD7 – MX2801i
Dual Sim (GSM + GSM)
Weight:99.50 gm
Dimensions :128.62*56.94*13.01mm
Display : 7.1 cm (2.8″) TFT Display, 252k colour
Language: English, Hindi, Gujarati
Band Support:GSM-900/1800 Mhz
Battery : 1500mAH