MaxxMobile – the Indian mobile manufacturer has listed a new feature phone called it MSD7 – GC535. It is listed in official website with a tag price Rs 2700.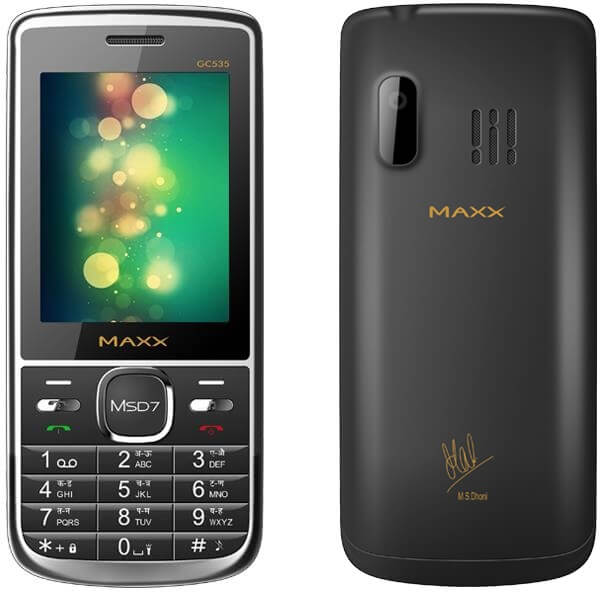 The Maxx MSD7 – GC535 is a Dual SIM (GSM + CDMA/GSM) phone, comes with 6.1 cm (2.4-inch) TFT Display with 262k color depth. It measures 116.83*51.43*14.81mm dimension, while weight is 108.4 gm.
It is a multilingual handset and can be converted into English, Hindi & Marathi. This 2G cellphone supports GSM- 900/1800 MHz and CDMA – 800 MHz operating frequency bands. It can store 500 phonebook entry, as well as SIM also (GSM 500 + CDMA 500). It can be used with an external 4GB memory card.
MaxxMobile MSD7 – GC535 has Bluetooth, FM radio, 3.5mm Audio Jack and WAP/GPRS as connectivity options and available in black colour. Auto redial, Auto call record (GSM only), Call blacklist and Call time remainder are additional features of this cell.
It has Dual LED Torch, Calendar, Alarm, World Clock, Calculator, Stopwacth, E-Book Reader, Currency converter and also security features like : Antitheft, Privacy protection, Phone Lock.
Maxx Mobile MSD7 – GC535 packs a 850mAh battery, which is rated to deliver Standby Time upto 50-100hours or Talktime 3- 3.5 hours.
In my reviews MSD7 – GC535 is too costly in Rs 2700. You can get Karbonn A1 Plus Super Smartphone in only Rs 3,241 or Lava Iris 310 Style smartphone in Rs 3249 only.
The main specifications of Maxx Mobile MSD7 – GC535 :
Product Type:Dual SIM (GSM + CDMA/GSM)
Form Factor:Bar
Weight:108.4 gm
Dimensions :116.83*51.43*14.81mm
Display Size, Type & Display Colors: 6.1 cm (2.4″) TFT Display
262kLanguage: English, Hindi & Marathi
Band Support:GSM- 900/1800 MHz and CDMA – 800 MHz