Earlier mentioned also, you are living in smartphone and tablet era. Iball listed two variant Andi4 models, namely Andi4 IPS Gem and Andi4 IPS Velvet. Both are dual-sim with dual standby facility, noticeably Andi4 IPS GEM is 3G powered, whereas Valvet is a 2G phone. Other features and specifications (specs) are same in both mobile.
Andi4 IPS Velvet tagprice is Rs 5,199, along side Andi4 IPS GEM priced at Rs 5,699, both phone MRP fixed by Iball official website. The Iball android smartphone sports 10.16 cm (4") IPS WVGA (800×480) High Quality (233 PPI) Display, boasts a powerful Dual Core 1.3GHz Cortex A7 Advanced Processor, supported with 256 MB RAM.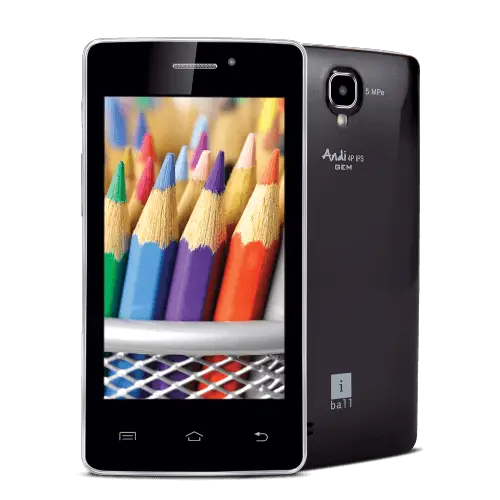 The phone dieting Google's Android Jelly Bean 4.2.2, boasts a 5 Mega-Pixel rear Camera with LED flash, powered with a powerful 1300mAh Battery. The Andi4 IPS Gem & Velvet also sports a front VGA camera for video calling feature.
The phones sports 2 GB internal storage (Approx. 1GB built-in Storage is utilize by OS and application files), upgradable up to 32GB via external Micro SD card support. Wi-Fi 802.11 b/g/n and latest bluetooth V4.0+EDR is another highlights of the Andi4 smartphone.Wi-Fi 802.11 b/g/n, Bluetooth 4.0, Micro-USB, GPS/A-GPS, EDGE/GPRS and 3G support (only in Andi4 IPS Gem) connectivity options are available.
It is noticeable that the both phones, Budget Andi4 IPS Gem and Andi4 IPS Velvet are backed by a 1300mAh Battery, but there is no word about talk time and standby time.
Edu-Slide i1017, Andi5T Cobalt2, Andi 3.5 Classique, Andi 3.5KKe Genious and  Andi 3.5Kke Winner are another products from Iball phone manufacturer company. Already planned to purchase a new phone, then you should review once Micromax latest Unite 2, available in only Rs. 6,999.