LockHunter is another freeware tool that lets you delete the files which is blocked by any program or malware. It is from the same team who has published USB Disk Ejector to safely eject the USB device from computer.
LockHunter is similar in funtion to Fileassassin and IObit Unlocker. It is a useful app for fighting against malware, and other programs that are blocking files. After unlocking the file, the app deletes it permanently, so you can not recover it from recycle bin too.
You can delete any stuborn file by browsing it through LockHunter app. It will show you the details of processes that are locking the files or folders you want to delete and gives the options to simply unlock and additionally rename or copy as well. This option is useful especially for those who want to troubleshoot the error.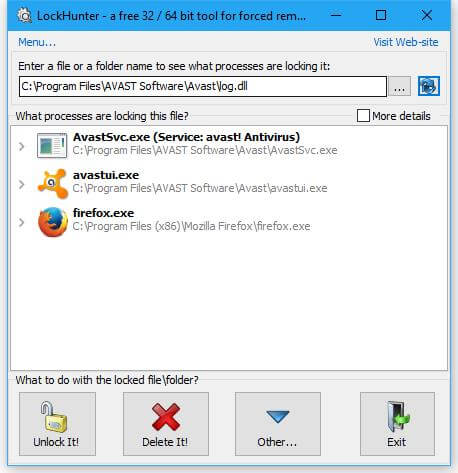 After installation, the LockHunter integrates itself to right-click context menu for ease. Simply right-click on any file/folder and you will find an option "What is locking this file?" or "What is locked this folder?", depends upon your selection. Clicking on the same will open the LockHunter window, where you can unlock or delete the same.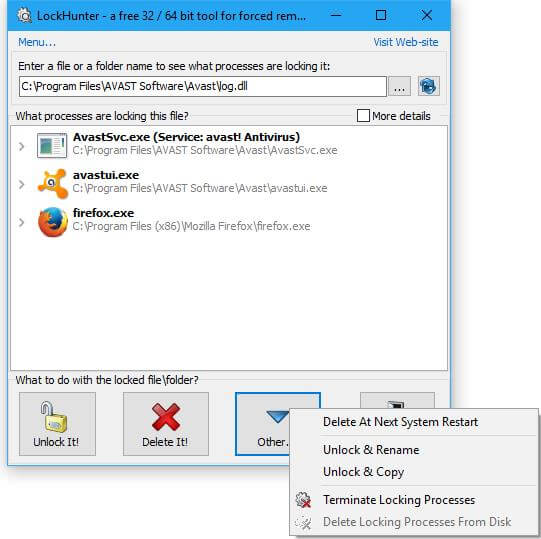 Additional options you can find by clicking on "Other" button, like, "delete at next system restart", "unlock & rename", "unlock & copy", "terminate locking processes", and "delete locking process from disk".
Features of LockHunter
Shows the processes locking a file or folder
Gives detailed information on the process
Allows to unlock, delete, copy or rename a locked file/folder
Can delete a file on restart
Can kill locking process
Can remove locking processes from hard drive
Can unload DLLs from processes
Integrates in to Explorer menu
Deletes files into the recycle bin, so you may restore them if deleted by mistake
It supports both 32 and 64 bit Windows, but has not been updated after 2013. You can download it from here.