Yoga Tablet 8, Android 4. 2 JellyBean powered, has been recently launched by Lenovo, the computer, tablet and smartphone manufacture. Yoga Tablet 8 is a revolutionary 8″ multi-mode tablet, which starting price is 199$, whereas OnePlus One CyanogenMod based SmartPhone starting price is 299$. Yoga Tablet 8's pioneering design incorporates a battery cylinder and kickstand on the side of the device, shifting the center of gravity and opening up multiple usage modes: Hold, Tilt, and Stand. Its 6000 mAh Li-Ion powerful battery gives you backup upto 18 hours,  whereas you can watch videos up to 14.5 hours.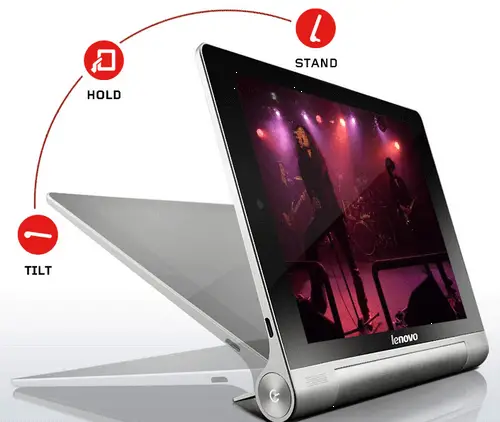 The Yoga Tablet 8's eight-inch HD (1280 x 800) display delivers stunning high definition visuals, 178 degree viewing angle with IPS technology. Integrated Bluetooth, 802.11 b/g/n WiFi and GPS keep you connected, whereas 5.0M rear and 1.6M front cameras let you take high-definition pictures and enjoy crisp, clear video chats. Its native eMMC storage device is also expandable upto 64GB micro-SD card storage support. Yoga Tablet 8's speakers (Dolby® Digital Plus enhancement) face front toward you rather than to the side or out the bottom.
You can also check out Video Reviews by Lenovo :
The key features and specs of Lenovo Yoga Tablet 8 :
1. Processor : MT8125/8389 Quad Core 1.2GHz
2. Operating System : Android™ 4. 2 JellyBean
3. Display : 8" HD display (1280×800) with multitouch & 178° wide viewing angle
4. Battery : Li-Ion, 6000 mAh, Up to 18 hrs of WiFi web browsing
5. RAM : 1GB LP-DDR2 memory
6. Internal Storage : 16GB eMMC
7. External Storage : 64GB micro-SD card storage support
8. WiFi : 802.11 b/g/n
9. Bluetooth : Bluetooth® 4.0
10. Sensors : E-compass, Accelerometer (G-sensor), GPS, Brightness (Ambient Light), Vibration Function
11. Ports / Slots : Micro USB (Supports OTG function), 3.5 mm Audio Jack, Micro-Sim
12. Integrated Camera : 5M Rear Camera, 1.6M HD Front Camera
13. Colour : Silver Grey
14. Dimensions (WxTxH) : 8.4 in x 5.7 in x (0.1-0.3) in
15. Buttons : Power Key, Volume Key
16. Audio : Dual Front-Facing Speakers, Microphone with noise reduction, Dolby Digital Plus DS1
17. Weight : 0.88 lbs
You are requested to share opinion / reviews about Lenovo Yoga Tablet 8.