730G is another open market 3G Data Card from Lava, which has got listed in indian e-commerce online websites with a tag price Rs 1176. Notably, Lava's 21G and 144G both supports 21.6 Mbps downlink, comes in Rs 1568 and Rs 1999 respectively.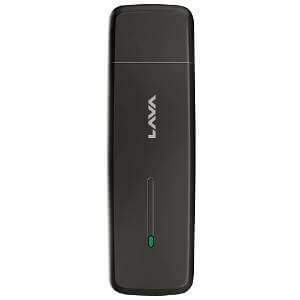 According to the re-seller, the Lava 730G is a 3G dongle, features 7.2 Mbps downlink and 5.76 uplink, in HSDPA and HSUPA network respectively.
The 730G supports all major operating system including Windows XP, Windows Vista, Windows 7, Mac OS X v10.5, Mac OS X v10.6, Mac OS X v10.7 (Mac-Only Support Intel Platform), however there is a lack of Win 8.
The 730 G features HSUPA and HSDPA networks, as well UMTS, EDGE, GPRS. The modem supports UMTS(3G) 2100 MHz and GSM (EDGE/GPRS) 850 MHz, 900 MHz, 1800 MHz, 1900 MHz network bands.
The Lava 730G adapter boasts a memory card slot, upgradable up to 32 GB via an external microSD card. SMS and Data Service Simultaneous Operation, APN Auto Management, CE Certified, PIN1 supports are additional features of this data-card.
The 730G comes in USB form, supports USB 2.0, features Plug and Play installation. Like Lava 144G, 730G also supports voice, alongside phonebook and SMS.
The main features and specifications of Lava 730G 3G Data Card :
HSDPA/HSUPA/HSDPA/GSM/GPRS/EDGE
Operation Bands – 850/900/1800/1900/2100
Setup mode – Plug & Auto installation
SMS & Data Service Simultaneous operation
USB Stick Micro-SD card slot up 32GB
Phonebook
APN Auto management
CE Certified
Download up to 7.2 Mbps and Upload up to 5.76 Mbps
In my reviews, among Lava's 21G, 144G and 730G; 21G is best product in Rs 1568, if you don't need voice call feature.