If you want to create and manage your Huawei modem dashboard then here is great freeware tool named as Huawei Dashboard Tool, which has been officially released by Huawei team. I have personally created dashboard through this tool and tested with many Huawei dongles and worked great. For Huawei data card users it's a great tool. Huawei Modem dashboard tool v0.0.0.7 can be downloaded from the link which is provided below after the end of the article.
How to create and manage dashboard for your Huawei modem?
1. Download any Huawei dashboard from the internet.
2. If the downloaded file is already in .iso format then continue with next step, if not in .iso format then use folder2iso or any other software for creating the .iso file.
3. Now run Huawei Dashboard tool.
4. Click on Select button which is labelled as "Input ISO image file" and select your .iso file from here.
5. Now click on Select button of "Output dashboard installer file" and select the path where you want to keep new dashboard .exe file.
6. After all the above step click on "Create dashboard" button.
After a few minutes, you will see a .exe file has been created on your specified location. For updating your modem with new dashboard insert your modem to your computer and let the modem install drivers in your PC. After all this double click on the dashboard which you have created.
Just select the radio button of "I accept the agreement" and click on Next button. It will search your modem port on which your modem is connected.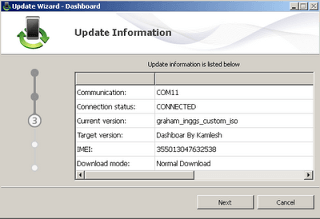 Click on next button and its will start downloading the dashboard in your modem.
After a few seconds, it will be finished.
You have done all the steps, now your modem has a new dashboard.
Note : Before doing this process make sure that your computer is running with sufficient battery. Do not shutdown or log off your PC, otherwise, your modem may be corrupt. By doing this process your warranty will be lost.