iPadian is an Adobe AIR-based iPad simulator, allows you to run some iPad apps in an iPad-like interface on your own Windows PC desktop. Presently, Version 2 of iPadian is available for download (link provided at the end of the article), gives looks and feels of iOS 7.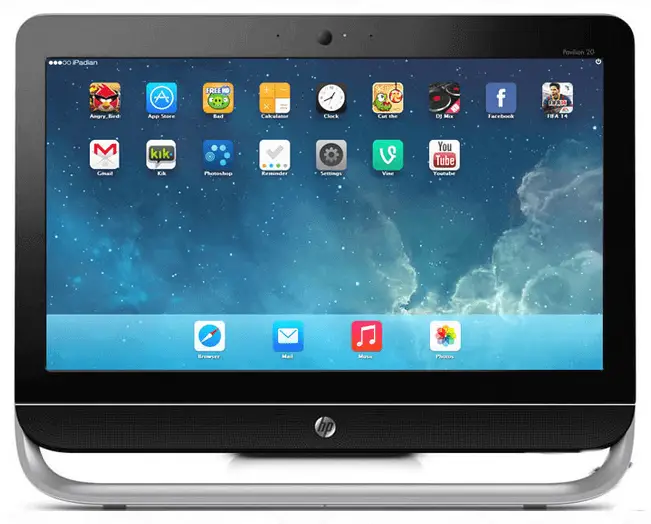 Surprised, its true, you can enjoy iOS 7 based games and apps in Windows desktop computer with the help of iPadian 2. However, the program does not include the Apple App store, because of copyright reasons. So you're restricted to iPadian's own custom app store.
You will face some major interface issues, because the iPad is designed for touch, but on a desktop, you are limited with just a mouse and keyboard.
Still without purchasing the iOS devices, its a great idea to enjoy iOS apps, iPadian provides a very complete environment – a browser, email client, social networking apps, music, videos, photos and more, with plenty of free apps to explore.
iPadian runs in full screen mode only, however, it allows fast access to the desktop using the dedicated button in the lower right side of the screen.
In iPadian program, you can find Facebook app, YouTube viewer, Gmail, a clock, a calculator and a task reminder, an audio mixing tool and a music player, a photo editor, an image viewer that can load locally stored pictures and a few games.
The iPadian software supports Linux, Mac OS X, Windows 7 (32 bit), Windows 7 (64 bit), Windows Vista (32 bit), Windows Vista (64 bit), Windows XP, however, support for Mac and Linux, is through Adobe Air.
Download latest version iPadian 2 (For Windows) (link contains virus, shifted in comment section)