Microsoft Windows comes with a Uninstaller tool, that lets you uninstall unwanted software from your PC. By doing a change you can also install or uninstall software in safe mode in Windows 10. There are various third party freeware programs to uninstall unwanted applications from your PC like MyUninstaller, Geek Uninstaller, 10AppsManager, Wise Program Uninstaller, Any Uninstaller and IObit Uninstaller.
IObit Uninstaller helps you in uninstalling a program and removing the unwanted files as well registry entries from your PC easily. Once installed in your computer, its powerful scan feature, scan your whole PC and give you a list of all programs installed in just a few minutes including the toolbars and plugins.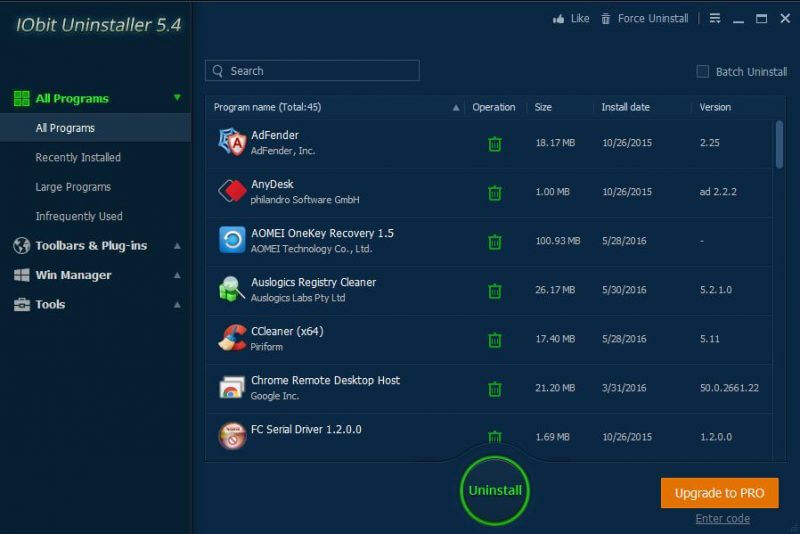 You can always use the Control Panel applet to uninstall unnecessary program from your Windows PC, but using a third party app will make uninstall faster and keep your computer clean. IObit Uninstaller completely removes the program from your computer without leaving traces.
Unlike the other freeware, which I have mentioned in the first para, the IObit Uninstaller comes with a modern interface. It is much faster and simpler.
IObit Uninstaller
The main interface of IObit Uninstaller is divided into two parts, where the left panel has the categories and the right panel displays the programs under the specific category.
All Programs
The very first category 'All Programs' is divided into sub-categories like 'Recently installed', 'Large Programs' and 'Infrequently used'. Just select any unwanted program and click on Uninstall button at the bottom of the tool. You can uninstall the apps one by one or in bulk by checking the small box on the top right corner 'Batch Uninstall'. There is also a 'Force Uninstall' option in the toolbar, it is recommended when any program refuses to uninstall in normal mode.
Toolbars & Plug-ins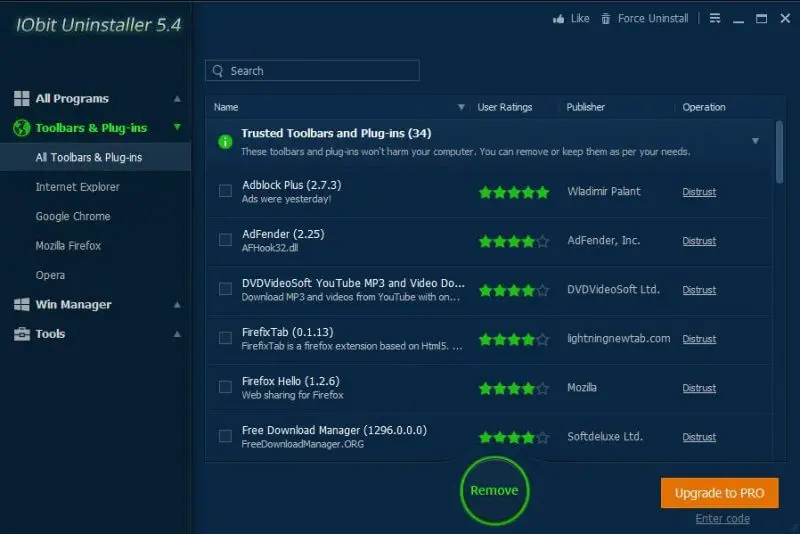 Toolbars are used for a quick access to websites and applications, but the unwanted toolbars stored in your PC may hurt the performance of your PC, and also can theft your privacy. The sub-categories of Toolbars & Plug-ins are 'All toolbars', 'Internet Explorer', 'Google Chrome', 'Mozilla Firefox' and 'Opera'. From here you can easily check and uninstall any of the toolbars which are saved by all your web browsers. Just select a Toolbar or Plugin you want to remove and click "Remove".
Win Manager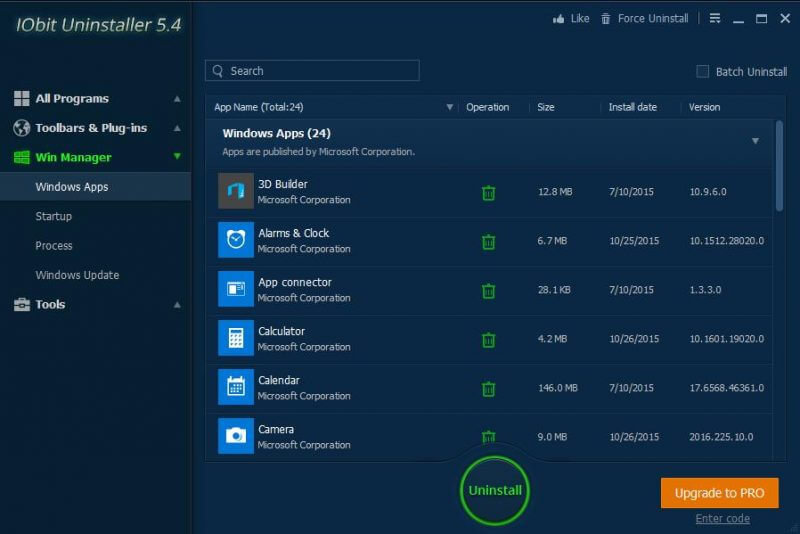 This category includes the following sub-categories:
Windows Apps : Here you can see all the Windows app which came pre-installed with your OS or if you have downloaded from the Windows Store.
Startup : Here you can see all the apps that start when your boots up. You can enable, disable or uninstall the app completely to boost the performance of your PC.
Process : You can check the processes running on your computer and end them if you want. Just select a program and click on End Process.
Windows Update : Here you can find all the updates of Windows and if you want to uninstall them, just select any update and click on the button Uninstall.
Tools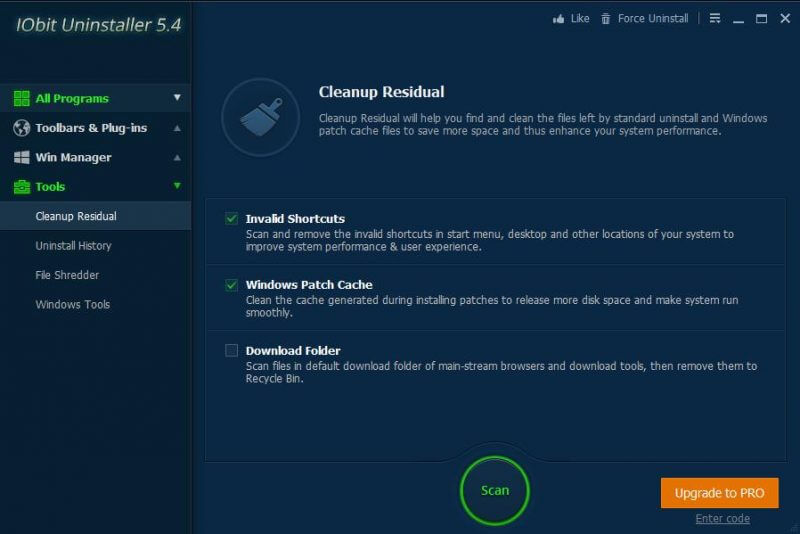 You can find the sub-categories in Tools:
Cleanup Residual : This feature scan and removes the invalid shortcuts in start menu, desktop and other locations of your computer to improve system performance and user experience. It also scans and cleans the Windows Patch Cache and download folder.
Uninstall History : To check the entire uninstall history.
File Shredder : This feature removes the files permanently from your PC. When files are deleted from a PC, some content still remains, but once File Shredder options is used, it can not be recovered through any software.
Windows Tools : You can quickly access Windows tools like Services, System Properties, Task Scheduler, Registry, System Information, Windows Features and Security Center.
Overall IObit Uninstaller is a simple and lightweight program (14 MB), which let you remove the stubborn toolbars, programs and plugins from your PC.
This software is compatible with all the version of Windows including Win XP, Vista, 7, 8, 8.1 and Win 10. You can download Iobit Uninstaller from here.