iBall Airway 7.2MP-18 3G USB Modem has got listed in India's e-commerce online website junglee at Rs 940.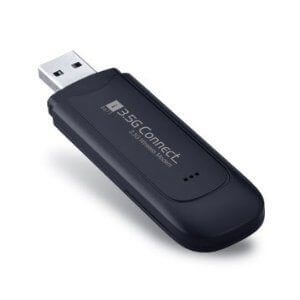 According to the official website of iBall, the Airway 7.2MP-18 can transmit the maximum download speed up to 7.2Mbps (HSDPA), or able to upload a file with a speed of 5.76Mbps (HSUPA). You can use 3G or 2G SIM.
The airway 7.2MP-18 sports HSDPA / UMTS 2100Mhz and GSM /EDGE 850 Mhz, 900Mhz, 1800Mhz and 1900Mhz frequency bands. The data-card has in built UMTS/GSM Antenna and it comes in form of USB. Standard 6 PIN SIM card compliant with 3GPP 31.101 and 31.102 are supported.
The airway 7.2MP-18 comes with a virtual CD ROM and Zero-CD Automatic installation. Its software is known as PC Suite, features Voice Call, SMS, Phone-Book & USSD Services. The device PC suite supports English language.
To able to browse internet through airway 7.2MP-18, you need a PC with minimum configuration of C.P.U 500Mhz (Intel Platform), 512Mb Ram, 40Mb free disk Space and standard USB 2.0 port.
Measuring the airway 7.2MP-18 dongle, dimension is 87(D) x 26 (W) x 10(H) mm, weighs 41 gm. The data-card comes with a LED display light, blue colour indicates Hardware & Network initialize. The broadband data card working temperature is -10 to 55oC.
Default airway 7.2MP-18 can be used in Windows 2000, Windows XP, Windows Vista, Windows 7, Mac OS X 10.4.9 or higher OS. This device can also be used as WiFi hotpost with the help of latest iBall PC suite.
The key features and specifications of iBall Airway 7.2MP-18 3G USB Modem :
System requirements : Windows 2000, Windows XP, Windows Vista, Windows 7, Mac OS X 10.4.9 or higher
Network type : GSM, EDGE, HSDPA, UMTS
Connectivity speed : GPRS: 85.6Kbps, HSDPA: 7.2Mbps, UMTS(3G): 384Kbps, EDGE: 237Kbps
Bandwidth: UMTS(3G) : 2100MHz, GSM (EDGE/GPRS): 850 MHz, 900 MHz, 1800 MHz, 1900 MHz
Memory Support : microSD Card, 32 GB
External interface : USB 2.0
Voice support : Call support
Antenna type : Internal
Phone book support : Yes
SMS support : Yes