There are so many products like Huawei E303, but very few products are like Huawei WS325 WiFi Gateway to protect your WiFi network. Huawei WS325 Gateway is another product like Huawei HG232f WiFi gateway, which can protect your wireless network. The WS325 is a new-moon-like look covered by a white-jade facade gateway. Smooth curves combine beautifully with cutting edge technology giving you a visually stunning user experience.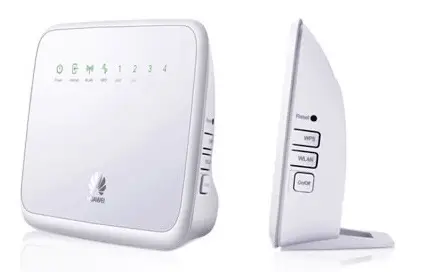 If you safeguard your personal data with the complete security solution, then only Huawei WS325 is the solution for you for your corporate business. The WS325, with its built-in firewall and anti-DOS attack protection, keeps your home network secure from hacker attacks and viruses.
It is designed to meet the EU's stringent CoC V4 Tier2 energy requirements, the WS325 significantly reduces your energy consumption, thereby reducing any impact on our environment. Thanks to our power saving technology, now you can connect to your network the eco-friendly way.
Its is supported with MIMO technology, hence, the WS325 ramps up your data with transmission rates of 300 Mbps. Which means less time waiting and more time enjoying smoother, faster network connections.
The WS325 lets you enjoy uninterrupted network connections with easy access anywhere within your network area. And with Quality of Service bandwidth control, the WS325 supports connectivity for multiple devices seamlessly and efficiently manages a multitude of applications.
 The key features and specifications of Huawei WS325 WiFi Gateway:
1. Dimension :
Width : 137mm
Depth : 31mm
Height : 104mm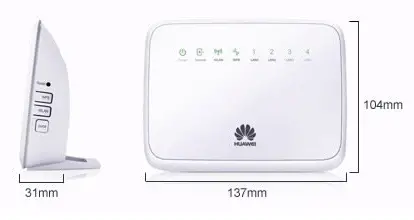 2. Weight : < 200g (Without power adapter)
3. Interface : One 10/100Mbps Ethernet RJ-45 uplink port, Four 10/100Mbps Ethernet RJ-45 downlink ports
4. Resolution : 1280*720″
5. WLAN Feature :
Protocol :802.11 b/g/n
Speed :300Mbps
Antenna :2×2 Built-in antenna,MIMO
Frequency :2.4GHz
6. USB : 1 USB 3.0
7. Buttons : Reset, WPS button, WLAN switch, Power On/Of button
8. LEDs : Power, Internet, WLAN, WPS, LAN1-LAN4
9. Security : WLAN switch, WEP,WPA,WPA2, WPA-PSK, WPA2-PSK, WPS Quick Secure Setup, DoS attack prevention, Built-in firewall, IP and MAC address binding against ARP attacks, IP address filtering, MAC address filtering
10. Functions : Route function, IP bandwidth control, WDS wireless bridging, Parent control, TR-069, IPv6
11. System Tools : Traffic statistics, System security log, Local Web management control
12. Power specifications : 12V DC,0.5A
13. Power consumption : <6W
14. Operating Temperature :0°C to 40°C
15. Realtime humidity :5% to 95% ,non-condensing
Huawei WS325 WiFi Gateway is a high-end product for corporate use. It is just like strong firewall of your PC.