Huawei UMG366 4G data card is just like Huawei E366 4G modem of Wind mobile Canada. T-Mobile of USA has just modified the E366 as Vodafone does and named it UMG366 T-Mobile Jet 2.0 web Connect 4G. The T-Mobile Jet 2.0 web connect 4G capable to run on blazing fast 21 Mbps download speed on T-Mobile USA largest 4G Network. Its 850 MHz processor makes it convenient to run faster on PC or Mac laptop and get convenient high-speed Internet access through T-Mobile 4G mobile broadband network. With a rotating  USB connector, it can point horizontally as well as vertically. The T-Mobile Jet 2.0 web connect USB is compatible with Windows 7, XP, Vista, or MAC OS X or higher versions. The web Connect Jet 2.0 USB 4G Dongle UMG366 supports up to 32 GB memory card.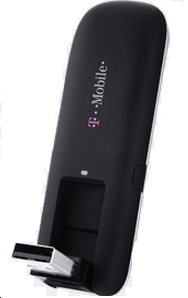 The main features and specifications of Huawei UMG366 4G Modem:
Model Number : UMG366
Frequencies : 850 MHz; 900 MHz; 1800 MHz; 1900 MHz; UMTS/HSPA+: AWS Band IV / 2100 / 1900 / 850
3G Frequency Band : HSDPA/UMTS 2100MHz
2G Frequency Band : GSM/GPRS/EDGE 850/900/1800/1900MHz
Weight : About 30g
Dimension: 69*26.5*12 mm
Temp. storage : -20C – +60C
Operation Temp : -10C – +55C
Memory Card : supports microSD up to 32 GB
Antenna : Built-in antenna and external antenna port
Supported OS : Windows 7, XP, Vista, or MAC OS X 10.4 or higher
Voice : No
Model : Huawei UMG366 (T-Mobile JetTM 2.0)
Firmware : 11.809.09.00.420
Compile date / time : Feb 13 2011 09:32:08
Hardware ver. : CP1E366M
Dashboard version : TMWM_2.05.0049.0_Mac2.05.0131.0
Chipset : Qualcomm MSM8200A
Interface Type : USB
Type : Wireless
Download : up to 21 Mbps
Upload : up to 5.76 Mbps
Overall it is a nice 4G dongle, in the U.S.A. it named as UMG366 and outside you can purchase it will name Huawei E366. It will cost you in market approx. 40 USD. You can unlock UMG366 dongle also to use another network SIM than T-Mobile.