Huawei has now launched highest speed HUAWEI E5730 router / gateway. The company calls itself as MOBI-FI E5730 because of its features and speed. The Mobi-Fi E5730 data card enhance your Internet browsing experience to a whole new level. These devices come with an inbuilt powerful battery that gives you continuous working time without the need to charge. The Mobi-Fi E5730 is a rare combination of performance and looks that puts you in the driver's seat when it comes to Internet connectivity. It only takes 5 seconds to start the E5730 with the push of a button. With this Mobi-Fi you can connect up to 10 Wi-Fi devices at a time. This is not all; you can upload images, videos, graphics and content at a speed of up to HSUPA 5.76 Mbps. The data card gives you an amazing download speed of up to HSPA+ 21.6 Mbps.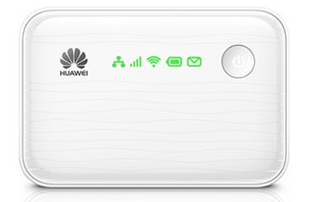 The main key features of Huawei E5730 Mobi-Fi router gateway :
Dual Uplink – 3G (Wireless) as well as WAN (RJ45)
Up to HSPA+ 21.6 Mbps download and HSUPA 5.76 Mbps upload speed
Wi-Fi b/g/n for up to 10 Wi-Fi devices
5200mAh power bank
Suppots Huawei Mobile Wi-Fi Apps for easy data management
The Huawei Mobi-Fi E5730 is a truly versatile Internet connectivity solution as it offers you the benefit of dual up-link. You can create a wireless 3G WAN connection by inserting just SIM card. You can also set up the wired WAN connection by the cable through its Ethernet port. The auto redirect function of the data card allows you to switch from WAN to LAN automatically.
With the power of Wi-Fi b/g/n, you can connect up to 10 Wi-Fi enabled devices at a given point in time. This feature of the Mobi-Fi E5730 makes it a highly versatile Internet connectivity solution.
The Mobi-Fi E5730 comes with a strong 5200mAh battery. It gives you a working time of up to 16 hours and a standby time of up to 500 hours. In addition to this, the data card supports power bank which means that you can charge your smartphone and tablet etc. at anytime, anywhere.
The main features and specifications of Huawei E5730 WiFi router / gateway :
Dimension :  99.0 mm×66.3 mm×22.5 mm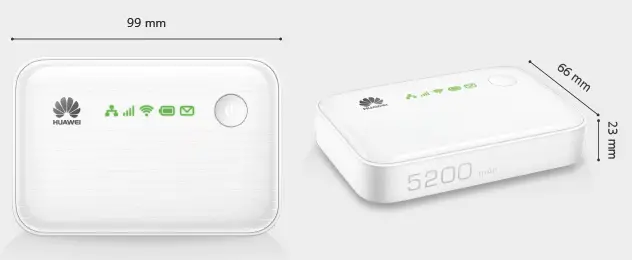 Speed :  Up to HSPA+ (DL) data service of up to 21.6 Mbit/s and Up to HSUPA (UL) data service of up to 5.76 Mbit/s
SMS : Yes
WiFi :  2.4 GHz, 802.11 b / g / n (WEP/WPA-PSK/WPA2-AES)
Display :  3.7 cm (1.45 inch) TFT
External interfaces :  Ethernet port : RJ45, Standard USB Type A, Micro USB, SIM card Slot
Operating System Supported :  Windows XP, Windows Vista, Windows 7, Windows 8, MAC OS X 10.5, 10.6, 10.7 and 10.8
Other features :  NAT, DHCP, firewall, filtering, DMZ, UPnP, port forwarding and VPN? Battery-saving features, wireless-to-wireless tethering
If you are looking for a high speed Internet connectivity solution, the Mobi-Fi E5730 is your ultimate choice. This data card gives you a download speed of up to HSPA+ 21.6 Mbps and upload speed of up to HSUPA 5.76 Mbps; thanks to the HSPA+ technology it uses. You can find different models in market as E5730s-2 or another.