Huawei has launched a new mobile WiFi hotspot router, calls it E5383. The device is listed in the company website of Japan, but there is no word on its pricing yet. The main highlight of the device, it has LTE Cat6 support.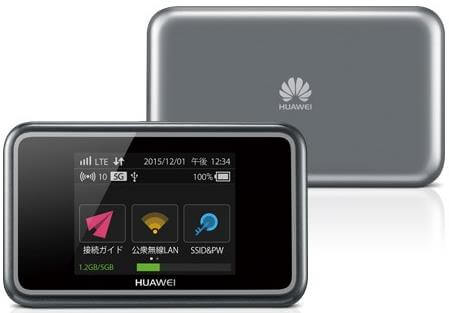 The Huawei E5383 measures 58 x 95 x 16.4 mm, and weighs around 120 gms, which is too easy to carry. It will be available in market in Gray & Silver colors. The router packs an impressive 3000mAh battery, while the modem can be used with Windows vista or later / Mac OS 10.7 or later.
Boasting a micro SIM card slot, E5383 features a 2.4 inches touch screen. Once battery is fully charged, it can provide up to about 13 hours of internet in WiFi mode, and up to about 1200 hours of standby life.
The Huawei E5383 can be connected to single PC with USB cable, and also can provide internet up to 10 WiFi enabled devices; means simultaneously 11 devices can be connected to the internet. Communication is possible through LTE: B1 / B3 / B19 / B21,
UMTS: B1 / B6 / B19 and WiFi IEEE802.11 a / b / g / n / ac (2.4 / 5GHz) bands.
The device comes with V4 algo unlock code which is not free. If you have a locked router to a particular network, and want to use any another carrier network SIM card, then just pay 6 USD through PayPal button and mention model and IMEI in transactions. Correct SIM Lock / NCK code will be sent in mail withing 8 hrs. You can also contact in kamlesh2011@gmail.com after making the payment.