Telstra is the best network in Australia and it keeps launching different modems and routers in the market locked to Telstra. Recently, the company has launched Huawei E5372T Telstra 4G WiFi Hotspot. It is just Huawei E5372, and T is the mark for Telstra, as Vodafone do. I have unlocked various Huawei E5372T Telstra 4G Mobile WiFi Hotspot device with unlock code, as it comes with un-customized firmware version 21.221.19.07.302 (and WebUI 13.100.05.07.302) and there is no need to update or change the firmware. Still, if someone in interested in the firmware update of Huawei E5372 (E5372s-32 21.236.03.00.00), then he can do.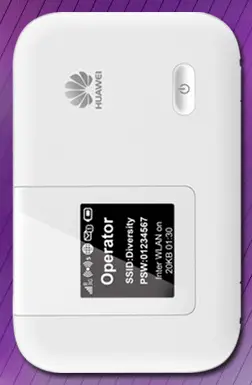 I also sell Huawei Wi-Fi router, wingle, gateway, unlock code and normal USB modem unlocking code. Huawei E5372T Telstra 4G WiFi Hotspot unlock code charge is 6 USD.
4G (CATEGORY 4) 150 Mbps download/50 Mbps upload
WiFi Hotspot for up to 9 devices
3560mAH battery for up to 6 hours internet usage
MicroSD Card support
Technical specifications of Huawei E5372T Telstra 4G WiFi Hotspot:
Network bands: LTE FDD 900/1800/2100/2600; DC-HSPA+ 850/900/1900/2100; EDGE 850/900/1800/1900
Network speeds: LTE FDD 150/50Mbps; HD-HSPA+ 43.2/5.76Mbps
Battery Life: 3560mAh, up to 6 hours continuous usage
Antenna: External antenna port
External interfaces: Mini-SIM; MicroUSB; MicroSD card support
Additional services : Write/send/receive SMS; store up to 500 messages; APN management; WEP/WPA-PSK/WPA2-PSK encryption
Dimensions : 14.4 × 99 × 62.2 mm
Weight : <130g (including battery)
How to Unlock Huawei E5372T Telstra 4G WiFi Hotspot?
1. Make sure your Huawei E5372T Telstra 4G WiFi Hotspot is fully charged.
2. Just insert a nonacceptable Network sim on your Huawei E5372T WiFi router (You have to use another network provider sim, which is currently locked to).
3.  After changing another network providers sim on your Huawei WiFi / MiFi, switch the device on. It will display "Invalid SIM" because you have used another network providers SIM.
4. Now just establish a WiFi connection to Huawei E5372T Telstra mobile WiFi modem with your PC / IPAD / iPhone / Android device.
5. Connect your E5372T mobile WiFi router with PC and go to 192.168.8.1 and login to the device's dashboard. Go to Advanced Settings – SIM Settings – Unlock Device – Enter Unlock Code – Click on Apply.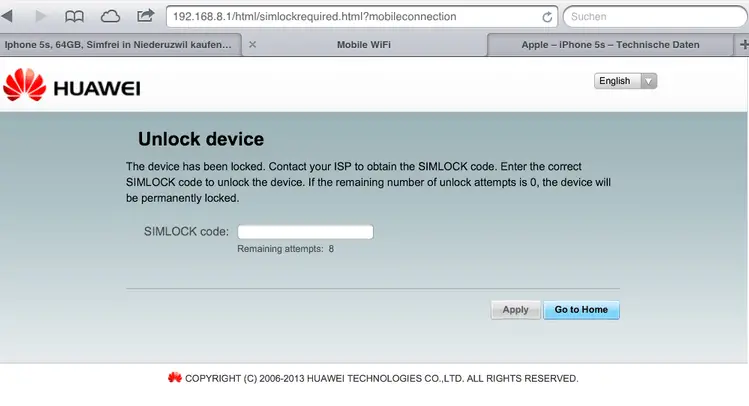 or,
Open Settings – Dial-up – Unlock SIM card – Enter 8 digits unlock code in your Huawei E5372 WiFi router. Click OK and the device will reboot to display the new network.
Now your Telstra Australia locked Huawei E5372T mobile WiFi router is unlocked forever.
Note: You can easily unlock E5372 with above steps, let it be locked to any network. But, should be with un-customized firmware.
Note II: Don't try to insert free or wrong code into your Huawei E5372T Telstra 4G WiFi hotspot, otherwise it will be locked permanently.