The New HP 10 plus has launched in US with a tag price US $279. 99. It can be purchased from its own store as well as Amazon.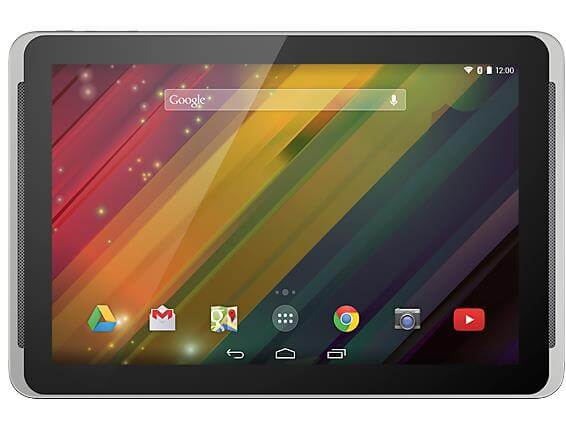 The HP 10 Plus is running on the latest Android 4.4.2 KitKat OS which is powered by ARM Cortex-A7 Quad-Core (1 GHz) processor with 2 GB DDR3L SDRAM. It sports a 10.1″ diagonal FHD WVA multitouch-enabled display with a resolution of 1920 x 1200 pixels. It comes with 16 GB eMMC which is further expandable with up to 32GB of T-flash card.
The HP 10 Plus has connectivity options as Wireless 802.11b/g/n, Bluetooth 4.0 combo and Wireless display, It is backed by 7700 mAh Li-ion polymer battery that is rated for up to 6 hours of mixed usage. It has micro USB 2.0 and audio jack (3.5 mm) ports also. It houses 2 MP HD front-facing camera and also boasts a 5 MP HD 1080p auto-focus rear-facing camera also.
The tab measures 10.43 x 6.89 x 0.37 in and weighs 1.46 lb. It has pre-installed software included Google Search, Google Voice Search service, Gmail webmail service, Google Sync syncing service, Google Talk instant messaging service, Chrome browser, Google+ social service, Google Maps mapping service, Google Street View mapping service, Google Play Store, Google Play Books, Google Play Music, Google Play Movies & TV, Google Play Magazines, YouTube, HP Connected Music, HP Connected Drive, HP Connected Photo, Skype and Box.
Key specifications of HP 10 Plus :
Android 4.4.2 KitKat OS
ARM Cortex-A7 Quad-Core (1 GHz) processor
2 GB DDR3L SDRAM
10.1″ diagonal FHD WVA multitouch-enabled display
1920 x 1200 pixels resolution
16 GB ROM
Wireless 802.11b/g/n, Bluetooth 4.0 combo and Wireless display
7700 mAh Li-ion polymer battery
micro USB 2.0 and audio jack (3.5 mm)
2 MP HD front-facing camera
5 MP HD 1080p auto-focus rear-facing camera