I had earlier shared unlocking solution of EC306 with the help of only CDMA workshop tool, but that works on only Tata Photon Max WiFi dongle. Now, we have come with a working solution of EC306 MTS wingle too. MTS EC306 Huawei wingle has customized firmware and can setting gets reverted back. Means after unlocking again it gets locked to MTS network. So, here we need to change the firmware for permanent unlocking solution.
How to change the firmware of MTS India EC306 Huawei EVDO CDMA modem?
Download the firmware which is mentioned at the end of the post.
Now connect EC306 with PC USB and disconnect internet and close the browser and any another running software.
Now, extract the download MTS EC306 in PC desktop.
Run, the download firmware.
Click Start.
Accept the agreement and continue.
It will ask you flash (password) code, provide here firmware code. (Note : You can get the firmware code by mentioning the model and IMEI in the comment).
Wait till the finish wizard.
Now, you have successfully flashed the customized EC306 dongle with un-customized firmware.
How to unlock MTS EC306 EVDO CDMA data card free ?
1. Download the CDMA workshop tool 2.7 Pre-cracked version from the download link which is provided at the end of the article.
2. Now extract in a folder and run it.
3. Now in the COM port drop down list select the com port to which you have connected the MTS EC306 EVDO CDMA dongle. (To get the COM Port read this article.)
4. Now after detecting the COM port click on "Connect" and your MTS EC306 EVDO CDMA modem will be connected to the CDMA Workshop 2.7.0 tool.
5. After the MTS EC306 is connected go to the security tab and click Read button.
6. When SPC code will be available in the box then click on SPC button. (If SPC code is not available then write 000000, if it is not working then generate from here).
7. Now you will get two option Send and Write as in below screenshot. Click on Send button and you will get a message spc accepted.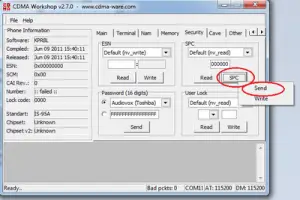 8. Now select the Other tab and in the RUIM – select RUIM if availabe or to ruim only and click on the write button. Now you have successfully unlocked your MTS EC306 EVDO CDMA dongle.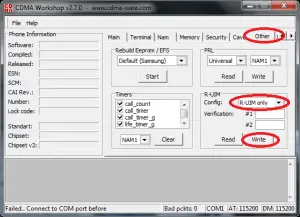 Note : Now you can use both CDMA inbuilt and CDMA of another network provider facility in your MTS EC306 EVDO CDMA modem. If you select RUIM-only then the default CDMA service will not work and if you select RUIM if available then you can use CDMA service without the sim and CDMA of another network provider when you insert the sim into the MTS EC306 EVDO CDMA dongle.
I am not charging for this unlocking solution, but if you are interested in donating some amount, then you are welcome at PayUMoney.
Download Unlocked Huawei EC306 Firmware 11.102.15.01.283
Download CDMA Workshop Tool 2.7 Cracked Version
Update :
Download Firmware Huawei EC306-1 Update 11.102.39.00.00 Universal
Download Firmware Huawei EC306-2 Update 11.105.07.00.00 Universal