I have already covered about unlocking of un-customized Huawei E3372 4G LTE dongle. But, unlocking of Airtel locked E3372 (E3372H-607) Huawei dongle is totally different since it comes with customized firmware. We have already managed to unlock Airtel 4G E3272s-927 and Airtel E3276 data card. We are also providing the unlocking solution of Airtel E5573s-606 mobile WiFi router. It comes with firmware version: 21.200.07.01.284.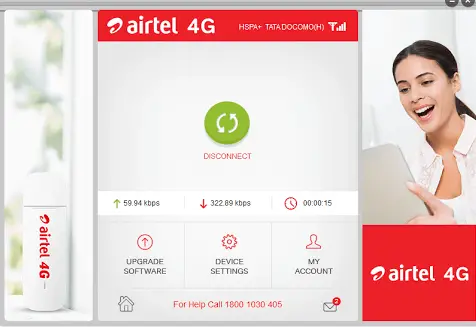 Features and Specs of Huawei E337Hs-607
Huawei E3372H-607 is a 4G dongle that supports LTE FDD 700/900/1800/2100/2600 MHz and TDD 2300 MHz, 3G: WCDMA(UMTS) DC-HSPA+/HSPA+/HSPA/UMTS 900/2100MHz and 2G: GSM/GPRS/EDGE 850/900/1800/1900MHz operating frequency bands.
Note: Huawei E3372s-153 (Huawei E3370 or M150-2) supports 4G (LTE) 800/900/1800/2100/2600 MHz, 3G UMTS: 900/2100 MHz and 2G GSM: 850/900/1800/1900 MHz bands.
In the market, you can also find out Huawei E3372h-603 and E3372s-607.
Huawei E3372 supports maximum download speed up to 150 Mbps, while upload speed limit is 50 Mbps in 4G LTE network. In DC-HSPA+, it can download up to 43.2 MBit/s, in HSPA+ speed up to 21.6 MBit/s, and in HSDPA speed up to 14.4 MBit/s. In HSUPA upload speed up to 5.76 MBit/s.
It has 2 X 2 MIMO and 2 external antenna connectors (CRC-9 type, buy Huawei E3372 4G Antenna). It is also equipped with a microSD card slot (up to 32GB). It has 88 x 28 x 11.5 mm dimensions and weight is 50 gms. The device supports Windows XP, Vista, 7/8, Mac OS 10.7 or later.
Airtel E3372H-607 is a non-hilink modem and can be purchased in India for Rs. 1400, but you can not use any another network provider. If you want to use Airtel as well as other carrier SIM in the dongle, then you need to unlock it.
Unlocking is one-time work, and after that, you are free to use any another network SIM card, as well as default.
When you will detect in any software, you will find that it has 0 attempts left to unlock it. Means, without firmware change, unlocking is not possible.
How to change the firmware of Airtel E3372H-607 Huawei?
Download the firmware (which you will get after making the payment).
2. Plug the device to PC and let it install all the required files and drivers to run it properly.
3. Now, disconnect the internet and close the software of dongle.
4. Extract the downloaded zipped file in a folder.
5. Now, run the firmware update file.
6. It will ask you password, use firmware code as password, which you can generate from Universal master code or comment below with IMEI to get the firmware password.
7. Wait till finish wizard.
8. Now, change the SIM with any another network provider SIM.
9. It will ask you NCK / SIMLock / Unlock code.
10. Enter 8 digit correct code.
Now, your device is unlocked forever.
Note: Unlocking is not free of cost, you have to pay the charge of Rs. 300. If interested then pay from here.
Update: Idea and Vodafone have launched E3372h-607 hi-link modem in India, both can be unlocked. E3372H (Idea and Vodafone) dongle unlocking charge is Rs. 400.