Windows 10 Technical preview has landed and came beautifully organised. But, some of us, like me, are not happy with default settings of Microsoft OS and keep trying to make changes without third party softwares. By default, Windows shows drive letters after the drive labels in the This PC / Computer. You can rename it, change the driver letters from computer management, but you can not shift it before the labels.
This simple registry tweak will help you to show drive letters before the drive labels in Windows 10. The same trick works with Windows 8.1, Windows 8 and Windows 7.
Before tweaking the registry :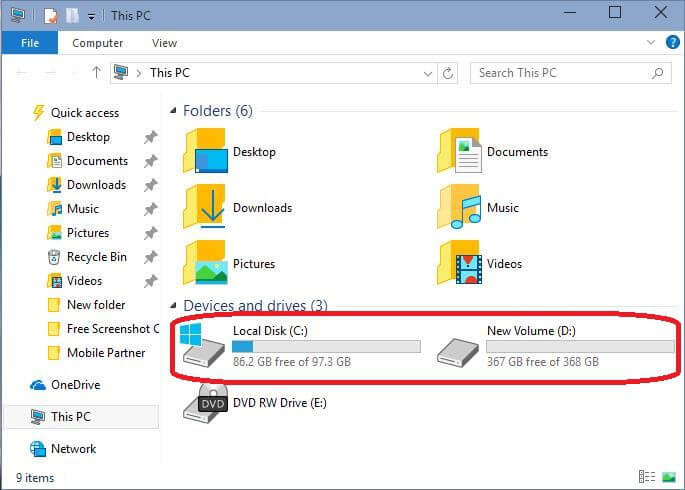 How to Show Drive Letters Before Drive Name in This PC / Computer ?
1. Open Registry Editor. (Press Windows + R key simultaneously from keyboard and type regedit. Press Enter from keyboard, if UAC prompt then click Yes. You can also disable the UAC to stop annoying prompts).
2. Navigate to the following key :
HKEY_CURRENT_USER\SOFTWARE\Microsoft\Windows\CurrentVersion\Explorer
2. Locate the ShowDriveLettersFirst value. If you cannot find it, create a new 32-bit DWORD value and name it ShowDriveLettersFirst.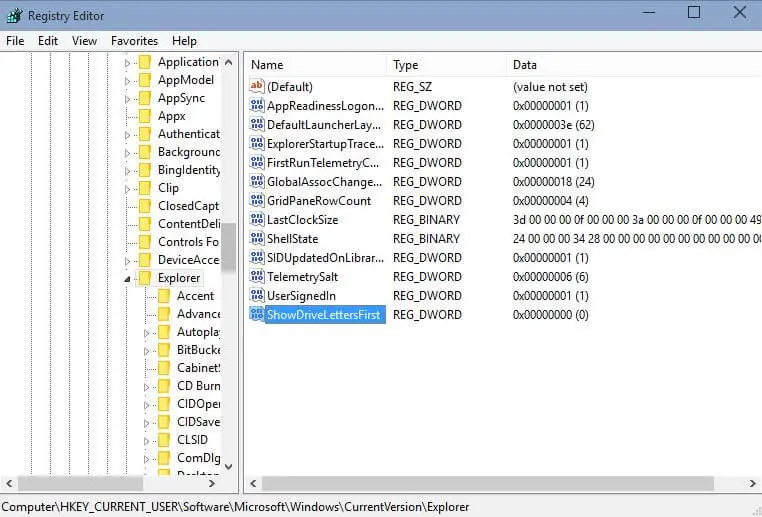 3. Here, you can set the value for ShowDriveLettersFirst according to the following rules :
0 – Display all drive letters AFTER drive labels
1 – Display network drive letters BEFORE the labels, but show local drive labels AFTER the labels
2 – Hide all drive letters
4 – Display all drive letters BEFORE drive labels
If you want to show drive letter before driver lables (names), then modify the key and change the value from 0 to 4.
4. Click OK.
5. Close the registry editor window.
6. Re-open This PC / Computer.
After tweaking the registry :
In case, the above mentioned tricks does not work, then try to find out ShowDriveLettersFirst key at :
HKEY_LOCAL_MACHINE\SOFTWARE\Microsoft\Windows\CurrentVersion\Explorer