Go Tech is another manufacturer of data card, Fun Connect has got listed in online e-commerce website with a tag price Rs 1080.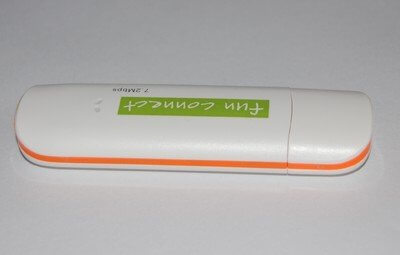 According to the online re-seller, the Fun Connect has built-in USB form, supports USB v2.0. The modem features a maximum download speed up to 7.2 Mbps in HSDPA or able to upload a file up to 5.76 Mbps in HSUPA network.
The adapter is available in ebay India website in white colour; has built with a memory card slot, upgradable up to 8 GB via an external micro SD card.
The Go Tech Fun Connect is 3G modem, supports 2G also; can work in HSDPA, HSUPA, EDGE, UTMS and GPRS networks. The GSM device comes with built-in internal antenna.
The Go Tech Fun Connect boasts a standard 6 PIN SIM card interface, compliant with 3GPP 31.101 and 31.102 standards; 3 GPP TS 27.005/3GPP TS27.007 At interface supported.
The Go Tech Fun Connect sports an Visual RGB LED Indicator to indicate different state of the network. The dongle software supports English language by default, more language could be supported upon request.
The Fun Connect is plug and play device, supports zERO-CD installation. PIN1 and auto APN management is additional characteristics of this Go Tech modem.
SMS and Data service simultaneously supported Go Tech Fun Connect 3G data-card, supports voice call and USSD optional.
The main features and specifications of Go Tech Fun Connect :
Speed : 7.2 Mbps downlink, 5.76 Mbps uplink
UMTS/GSM Antenna : Supported,Internal Antenna
USB type : Standard USB Interface
USB Speed :USB2.0 High Speed
Power Mode : Powered Via the USB interface
SIM/USIM Card: Standard 6 PIN SIM card interface,compaliant with 3GPP 31.101 and 31.102
AT Interface : 3 GPP TS 27.005/3GPP TS27.007 Supported
Visual Indicator LED: An RGB LED indicator for different state
Languages supported:English,more language could be supported upon request
zERO-CD installation: Supported
Setup Mode: Plug & Auto Installation
PIN1:Supported,enable/disable/modify
APN auto management : Supported
SMS and Data service simultaneously Operation : Supported
Voice Call : Supported, Optional
USSD : Supported, Optional