iCare team has developed a new tool for PDF conversion, calls it PDF Converter. It is an all in one tool to convert PDF to Word, PDF to Excel, PDF to PPT, PDF to HTML, PDF to TXT, PDF to IMG, Word to PDF, Excel to PDF, PPT to PDF, and IMG to PDF. It can also split PDF, merge PDF, decode PDF, compress PDF, extract the image from PDF.
We have got the opportunity to host a giveaway for 72 hrs, from 11 Nov to 13 Nov 16. Means, during this period, you can download this tool for free and use the license (YJ19H-E098M-NFR8Z-GATBU-VLAWO).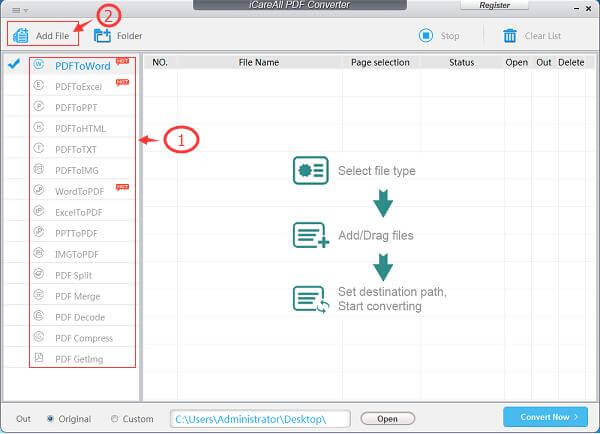 If you a PDF file and you want to play with it, launch the iCareAll PDF Converter tool and from the left side menu, select the desired option then click on "Add File" to select the PDF file from your computer.
Set file path to save files and then start converting the PDF file to any desired format.
The free version of iCareAll PDF Converter is also available for download, but it can convert any file of fewer than 5 pages only for free. To convert more content, you may buy a code. The price for the single PC licence is 40 USD. But, within this giveaway period, you can save your 40 USD and can enjoy free app lifetime free.
The tool is compatible with both 32-bit and 64-bit operating systems including Windows 10/ 8.1/ 8/ 7/ Vista/ XP.
Note: There will no free upgrade and support in giveaway version. Also, make sure that this app will be invalid soon after the giveaway period, means you have to install and use this software during the giveaway period.
You can download the giveaway version of iCareAll PDF Converter from here.