In a event of Athens, Gigabyte has launched a new smartphone, the GSmart Mika M3. It will be available in 2014 in Greece but no exact date and pricing details is available yet.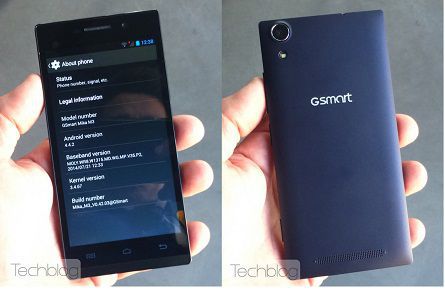 According to the techblog, the Gigabyte GSmart Mika M3 is running on the latest operating system of Google's Android 4.4.2 KitKat. It is powered by a 1.3GHz quad-core processor with 1GB of RAM. It sports a 5-inches LCD IPS touch display with a resolution of 1280 × 720 pixels.
In terms of connectivity options, the GSmart Mika M3 include; 3G, HSPA+, Wi-Fi N, GPS, Bluetooth 3.0, Micro USB and Dual SIM slot. It houses a 13 Megapixels rear-facing camera with LED flash and also packs an 8 Megapixels front-facing shooter for selfies.
With 8GB of internal storage, the Gigabyte GSmart Mika M3 is upgradable up to 32GB via an external microSD card. It boasts a 1900 mAh battery with a dimensions of 144 × 70.5 × 8.3 mm which weighs 146 gms.
Key specifications of Gigabyte GSmart Mika M3 :
Android 4.4.2 KitKat
1.3GHz quad-core processor
1GB RAM
5-inches LCD IPS touch display
1280 × 720 pixels resolution
3G, HSPA+, Wi-Fi N, GPS, Bluetooth 3.0, Micro USB and Dual SIM slo
13 Megapixels rear-facing camera with LED flash
8 Megapixels front-facing shooter
8GB ROM
1900 mAh battery
8.3 mm thin
weighs 146 gms
Source