I had recently written article about unlocking of Reliance EC1260 CDMA 3G dongle modem datacard broadband Free, Unlocking of  Reliance EC150 Huawei CDMA EVDO Modem Dongle Data Card Free. Various people are facing problem that while updating the firmware it ask SPC code not Firmware Code, so unable to unlock his modem. Today, I am writing in details to Get the SPC Code free via DFS CDMA tool. So, users can easily generate the SPC code to unlock his CDMA Huawei reliance modems.
How to Get SPC Code Free of any Huawei or ZTE Modem :
1. Download DFS CDMA tool V 3.1.0.1 from the download link which is provided at the end of the article.
2. Now extract the downloaded zip file in a folder.
3. Now plug your CDMA Huawei or ZTE modem, for which you want to get the SPC code.
4. Now check the COM port on which your modem is connected, to check the COM port of the modem refer this article.
5. Now run dfs.exe file from the DFS folder which you have already downloaded.
6. Now click on Manager from left side and double click on the port and now your modem will be connected to DFS CDMA tool.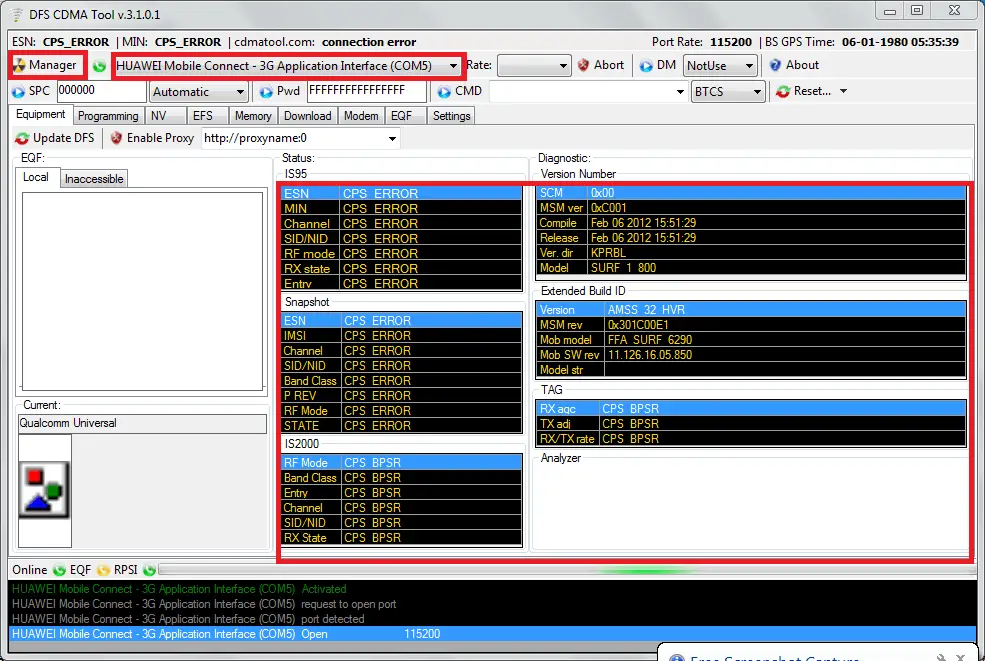 7. Now DFS tool will start reading your CDMA modem info and it will start updating the data as in screenshot.
8. After around 2 minute , when data will be updated in DFS CDMA tool, click on Memory tab.
9. Here in left side in Type "RAM" will be visible.
10. Click on drop down and change the "RAM" to "CEFS" as it is available in above screenshot.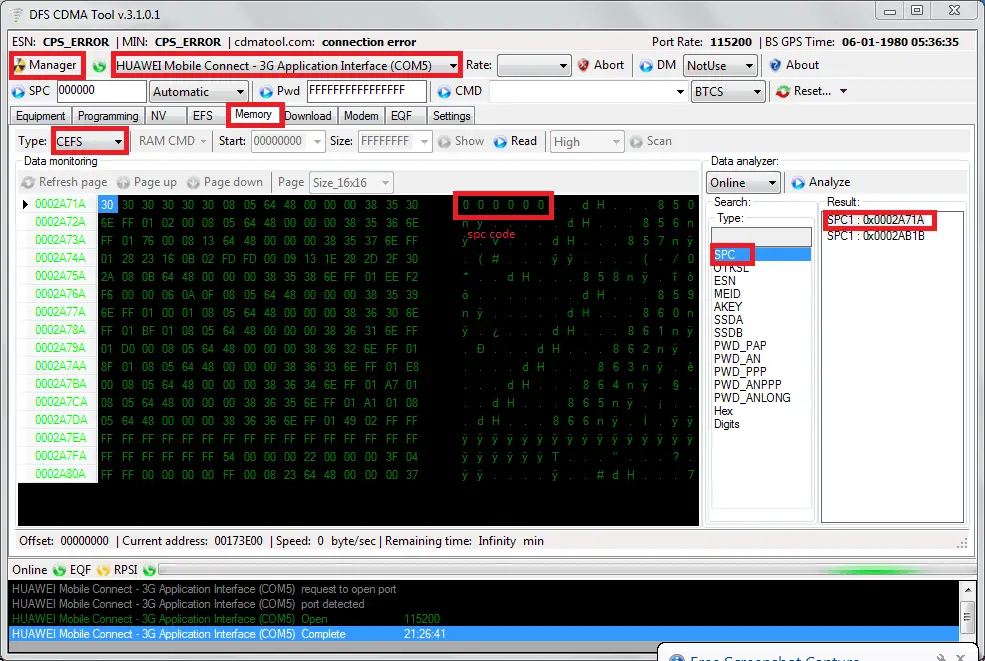 11. Now click on read button from menu.
12. Now on right top below the type double click on SPC.
13. Now on the right side of SPC, SPC1 will come.
14. Double click on SPC 1.
15. Now in the main screen, spc code will be appear, as highlited in the above screenshot.
16. Now you have got the Correct SPC code, now follow the rest of procedure to unlock your modem.