Good news for those users who are having new algo Huawei modems. If you have Huawei modem with 86 series IMEI, then it can be unlocked with Huawei new Algo codes only. It is free for today up to Midnight 11:59 PM 04/10/2012 GMT+ 5:30. The famous website for modem unlocking mymodem has given offer for New Algo Huawei unlock code toady only. Interested users can now generate the new Algo unlock code for his Huawei modem to unlock it easily.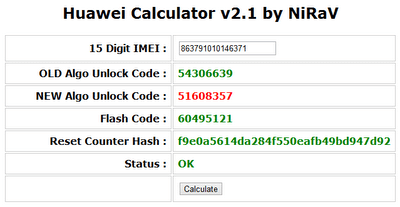 Just browse the link which is provided at the end of the article and put your 15-digit IMEI number of 86 series Huawei modem. Click "Calculate" button and it will generate Old Algo Unlock Code and New Algo Unlock Code for you. Just follow my instruction to unlock your modem and use the New Algo Unlock Code generated by below tool and easily unlock your modem for free.
Update: Now developer has stopped free codes. Users who want to purchase Huawei new Algo unlock codes in cheap rates can visit this link.