There are thousands of folders in Windows PC and all are in Yellow color. Folder Marker is a freeware tool that lets you change the color of folders. Apart from the changing of colors, you can mark folder with priority and also by degree of works to differentiate with others.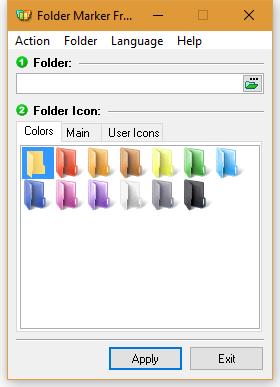 Once you marked a folder, it will also in the notice of other users that folder contains some important information.
Once installed in PC, you can change any folder color or priority by right-click > mark folder options.
Folder Marker is for anyone who wants to make working with a computer more convenient. The free version of Folder Marker features plenty of options to customize the default look of folders. You can assign an icon to a folder from EXE, BMP, DLL, or ICO files as well as change the icon of one folder at a time or apply the same icon to all the folders in Windows 10 at a time.
After all the changes, if you want to restore the folder back to its original stage, right-click on the desired foldr and from Folder Marker context menu select "Restore Default".
Features of Folder Marker
Change a folder icon with one mouse click
Mark folders by priority (high, normal, low), by degree of work complete (done, half-done, planned) and by the type of the information contained in a folder (work files, important files, temp files, private files).
Change a folder's color
Changes folder icons from a popup menu of the folders. To mark a folder, you don't even need to run the program!
It contains convenient category submenus.
Allows to add up to 10 of your favorite icons and mark folders with them.
Can work with several folders at once.
Can assign an icon to a folder from: ICO, ICL, EXE, DLL, CPL or BMP file
Supports 32-bits icons
Folder Marker can change the icons of ALL folders in your system.
This tool supports all versions of Windows including XP, Vista, 7, 8 and 10. You can download this free utility from here.