Windows Update service is most important aspect of Windows PC, as it installs all the latest security updates and patches on your PC to protect from vulnerabilities. By default when you install Windows on your PC, this service remains on. You can manually disable it, or it is also possible by a third-party software has disabled it. If you encounter issues with updates not working or installing, it might be possible due to some malware infections also.
Here Windows Update Fixer does troubleshoot in your PC. It is a freeware tool and can fix the issues regarding updates.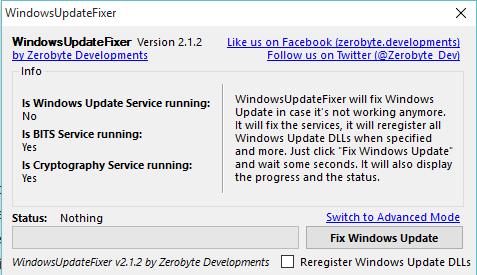 WindowsUpdateFixer basically checks three services : Windows Update, BITS, and Cryptography. To able to fix the windows update problem, you have to run the Windows Update Fixer as administrator.
Once the app is running, just click "Fix Windows Update" to fix the issues of Windows Update.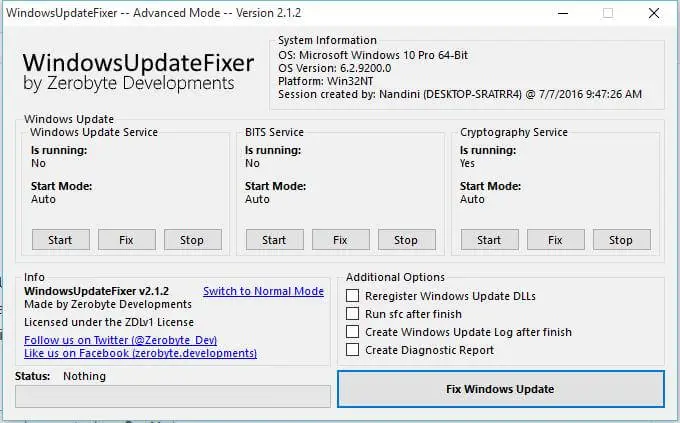 If you switch Windows Update Fixer advanced mode, you can start / fix / stop the Windows Update / BITS / Cryptography services. It also provides options to reregister Windows Update DLLs. After fixing the error you can run SFC, create Windows Update log / diagnostic report.
Windows Update Fixer can fix the update issues of Windows 10, Vista, Win 7 / 8, and Windows XP. You can download this utility from here.
You might be interested in :
How to Fix Windows 10 Update Error with Windows Update Troubleshooter?