Windows 10 comes with various new features and improvements over the previous OS. One the problem I faced after installing in my laptop is Shut Down. My laptop does not Shut Down properly after installing the Windows 10. After pressing the Shut Down option, power lights remain on.
Microsoft has introduced the new method of Shutdown in Windows 10, that is called Hybrid Shutdown. This feature is enabled by default, and it decreases the PC's shutdown time. Hybrid Shutdown decreases the shutdown time by hibernating the kernel session, instead of completely closing it. When the PC is powered on again, the kernel session is revoked from the hibernation, like that it decreases the booting time as well.
Hybrid Shutdown increases the performance, but this new feature is also causing some errors and even preventing the Windows from completely shutting down. Many computers freeze when you try to shut them down, and the only reason for this is the Hybrid Shutdown, which is enabled by default. So, in this post we will see how to disable Hybrid Shutdown feature of Windows 10, to solve the Shut Down problem. After disable the Hybrid Shutdown features the kernel session won't be hibernated on shutdown anymore, and the PC will be completely closed. You should note that this will increase the shutting time of your computer, but the problem will definitely be solved.
How to fix shutdown problem in Windows 10 or disable Hybrid Shutdown?
1. Click on "Action Center" icon from the taskbar and then click "All Settings".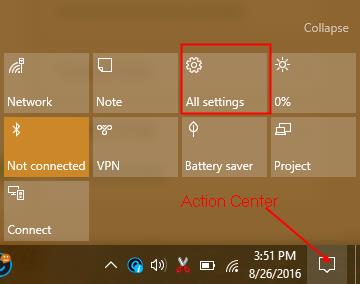 2. Click on 'System'.
3. Under 'System', from the left pane, click on 'Power & sleep'.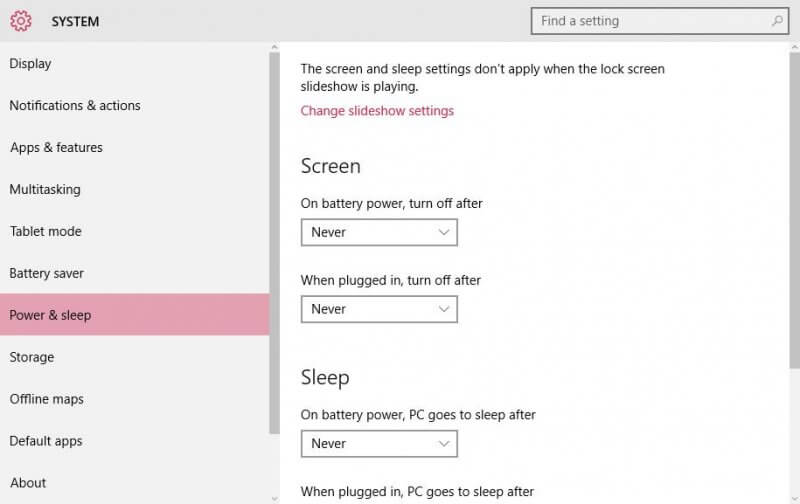 4. Scroll down to the bottom from the right pane, and click on "Additional power settings" link, just below Related settings.
5. 'Power Options' window will be opened. From the left pane, click "Choose what the power button does".
6. Click on "Change settings that are currently unavailable", under Define power buttons and turn on password protection.
7. Under "Shutdown Settings" section, uncheck "Turn on fast startup (recommended)".
This is the Hybrid Shutdown feature of Windows 10, which I am disabling.
8. Click 'Save changes' button to save the modified settings.
9. Close Power Options window.
Above changes will fix the shutdown problem in windows 10 PC.