Tiles in Windows 10 are designed for Windows 10 Start menu to display the name of the app or program with its icon. Some apps also support live tile feature, means it automatically refreshes the tile on the Start menu to display the latest content.
Most of the users are experiencing the issues with Start menu as well as Tiles. The blank tiles are one of the common issues of Windows 10 while using the Start menu in Windows 10, you might notice that some of the tiles on the Start menu are blank. In this post, we will see how to fix the blank tiles in Windows 10?
How to Fix the Blank Start Menu Tiles in Windows 10?
Restart Windows Explorer
1. Right click on Start Menu and select "Task Manager".
2. Click 'More details' to view the full version of Task Manager.
3. Switch to the Processes tab and look for Windows Explorer.
4. Select the "Windows Explorer" and then click on "Restart" button to restart the File Explorer as well as Start menu.
Now you should see tiles with information instead of blank tiles.
Official Start menu troubleshooter
Microsoft has officially released Start menu repair / troubleshooter tool for Windows 10 to fix various types of Start menu issues, including blank tiles.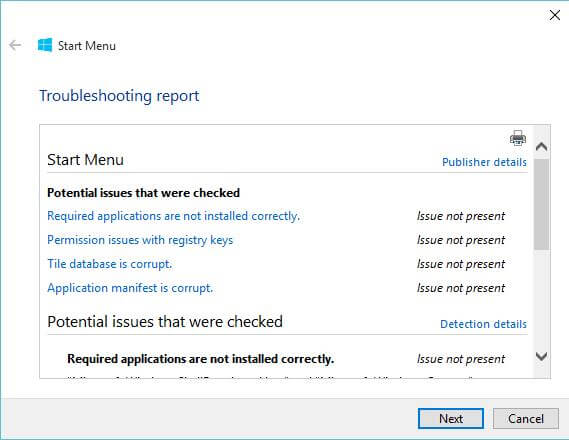 If the Windows Explorer restart did not work for you, you should run the official Start menu troubleshooter. This official troubleshooter tool can fix issues related to Start menu.
Unpin / re-pin the app tile to Start menu
If above both solutions didn't fix the issue, you can unpin the tile from the Start and then pin the same to fix the blank tile problem. To unpin a tile right-click on the tile and select Unpin from Start option. Again to pin a tile, right-click on an app in the Start menu or Start menu search and select Pin to Start option.