Recently Huawei has launched E5221 modem in various countries. HUAWEI E5221 Mobile WiFi Router is a high-speed packet access mobile hotspot. It is a multi-mode wireless terminal for SOHO (Small Office and Home Office) and business professionals.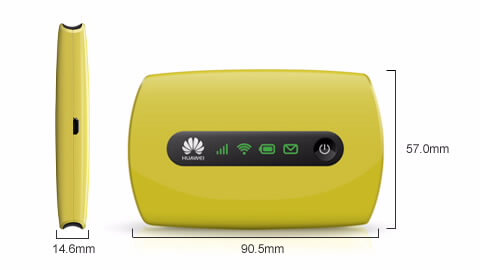 The main features of Huawei E5221 Mobile WiFi Router are as follows :
Huawei E5221 supports High Speed Packet Access Plus (HSPA+)
Supports High Speed Uplink Packet Access (HSUPA)
High Speed Downlink Packet Access (HSDPA)
Universal Mobile Telecommunications System (UMTS)
Enhanced Data rates for Global Evolution (EDGE)
General Packet Radio Service (GPRS)
Global System for Mobile communications (GSM)
The Huawei E5221 provides the following services:
HSPA+ packet data service of up to 21.6 Mbit/s
HSPA (HSUPA/HSDPA)/UMTS packet data service of up to 14.4 Mbit/s
EDGE/GPRS packet data service of up to 236.8 kbit/s
UMTS/GSM Short Message Service (SMS)
Huawei E5221 Mobile WiFi  can be connected with the USB interface of a computer, or connect the E5221 with the Wi-Fi. In the service area of the HSPA+/HSPA/UMTS/EDGE/GPRS/GSM network, you can surf the Internet and send/receive messages/emails cordlessly. The E5221 is fast, reliable, and easy to operate.
Specification of Huawei E5221 Mobile WiFi :
Width – 90.5mm
Height – 57mm
Depth – 14.6mm
Weight – about 58g (including the battery)
Communication System – UMTS/HSUPA/HSPA+/GSM/GPRS/EDGE
Speed – HSDPA 21.6Mbps/HSUPA 5.76Mbps
Display – LED
Battery – 1500mAh, Maximum working time: 4 hours, Maximum standby time: 280 hours while Wi-Fi is off;23 hours while Wi-Fi is often on
microSD card slot – No
External Antenna Interface – No
Receive Diversity – Yes
Wi-Fi Protocol – 802.11b/g/n
Wi-Fi Connection Number – Up to 10 simultaneous users/devices
Supported Operation System –
Windows XP,Windows Vista,Windows 7,Windows 8,Mac OS X 10.5,Mac OS X 10.6,Mac OS X10.7,Mac OS X10.8
Unlocking of Huawei E5221 is also same as Huawei WiFi MiFi E535s-2 Netcom Norway. Unlock code charge is only 2.38$ which you can pay through above paypal button for router code. For clarification you can mail in kamlesh2011@gmail.com