Easersoft ExetremeCopy is another files / folders handler which can copy with the faster speed than default windows. You can also use Copy Handler in place of ExetremeCopy, but I personally use TeraCopy to copy the bigger files from one place to another.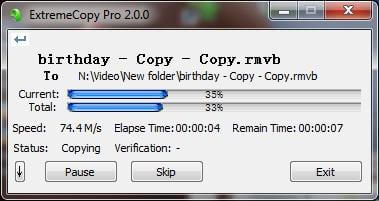 ExetremeCopy is a tool from Easersoft team, that comes in two edition : Professional and Standard. The Standard edition of ExetremeCopy is free for non-commercial use, however, standard edition is paid and can be used for commercial purposes. Both the versions of ExtremeCopy is build for Windows Operation System : XP / 2003 / VISTA / VISTA64 / Windows 7 / Windows 8. It works with 32 bit OS as well as 64 bit OS.
The latest ExtremeCopy software can be downloaded from the link which is provided at the end of the article. ExtremeCopy is a utility which copy file extremely fast, it will auto optimize speed and resource base on target physical machine. Especially if copy big files, it can increase 20% ~ 120% speed up than Windows Explorer's default copy handler. It is a very good application to backup the files in a regular basis.
The main features of ExetremeCopy Standard (Free) Edition :
ExtremeCopy can verify destination data by source data after copy file task done. However, this feature only works in copy file but not move file.
After the installation of ExtremeCopy, it integrates itself into Windows Explorer seamlessly by default. You can do copy and paste as usual and ExtremeCopy will come up when you need.
You can pause/resume copy process if you need. And remain time will be calculated and display exactly
Multiple Languages Support
Free for non-commercial
The main features of ExtremeCopy Professional (Paid) Edition :
All of features of Standard Edition will also works in this edition.
It can record failed file in list for recovery after copy finished so that no need to cancel the entire copy task once error encounter.
You can specify multiple destinations in once copy task with the same source in stead of copy them one by one so that to accomplish copy file task by minimum time .
Supporting 'Copy File Task' feature which can let you customize copy task easily and powerful.
More Options For Copying Be Supported, such as 'same file name','error' options only support in Profession Edition.
30 days for trial