Huawei E5573 mobile WiFi router's various sub-models with various firmware versions are available in the market. I have already unlocked the following :
Now, with the help of this post you can unlock the following more devices :
E5573s-320 (Smart Philippines) with firmware v21.200.15.00.238
Huawei E5573s-320 Tigo Tanzania
Fastlink Iraq (E5573s-320 with firmware v21.180.17.00.401)
Huawei E5573s-806
Smart Tanzania locked Huawei E5573s-606 with Firmware 21.316.03.00.1343
If your device has newer version firmware, then it does not allow to flash it. While flashing the device, it gives error 19 and does not allow to flash the previous firmware. But, it can be solved with E5573s-806 Firmware Update 21.200.11.00.00.
How to get rid of Error 19 in Huawei E5573 router ?
Download firmware v21.200.11.00.00 from above link.
2. Comment with device model and IMEI below to get the firmware code.
3. Now unzip the file with WinRAR.
4. Disconnect internet, close the browser.
5. Run the firmware update file.
6. Now, it will detect the device and as you flash code.
Note: If you are getting "Error 10: Find port failed" then refer this post to rectify the problem. If your PC is not available under COM ports then run this registry file and restart your computer.
7. Input the code which you have got in the comment.
8. Wait till finish wizard.
Now your device has the universal firmware installed successfully. Now, comes to unlocking.
Now, for unlocking you need to run two more files. You have to follow the whole procedure which is mentioned at here.
Enjoy and share !!!
Update : If you are still not able to unlock / flash the device and you are getting error 19, then you have to shot the motherboard. Before this, I have used the boot shot method in the unlocking of Huawei B310 router.
How to shot the board of Huawei E5573 router?
Dismantle the device.
2. Let the battery inside the device, but don't switch it ON.
3. Now, touch the boot pin and ground of the board from any metal / wire as shown in above image.
4. Now insert USB cable to PC.
5. It will produce a sound.
6. Now, just remove the metal / wire from the board.
7. Now download Balong tool and BOS solution.
8. Run both in PC (Check for drivers in Computer Management, if getting in Yellow mark (Huawei port) then restart the PC, it will automatically installed, if not then you can also use the latest "Huawei mobile partner".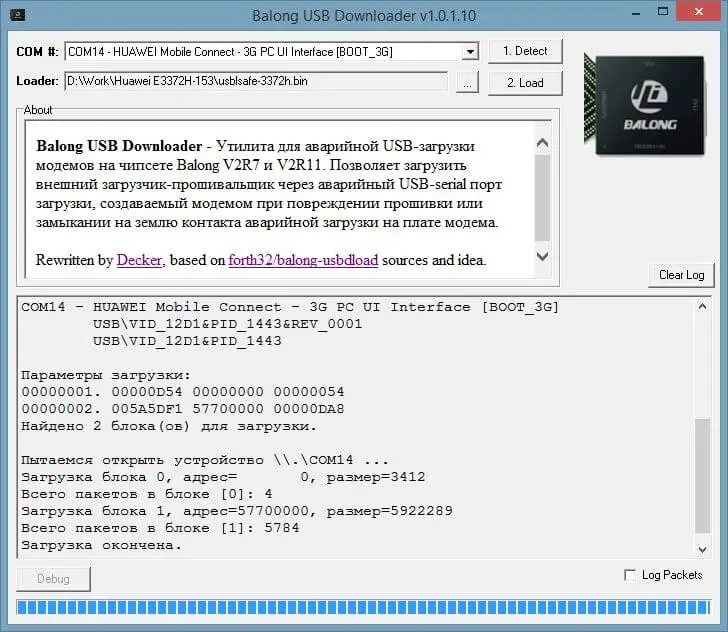 9. Once drivers successfully updated, download usbloader.bin file:
10. Now detect device under Balong tool.
11. It will detect the COM port as BOOT_3G.
12. Now in loader option, select the above-downloaded bin file and click load.
13. If everything goes fine then your device will be loaded with universal boot file.
14. Now, PC will again beep and a new port will be installed.
Now, start installing any firmware of E5573bs / E5573s router, which is compatible.
There is no more Error 19. With this method, you can repair the device too.
Note : Do at your own risk, mistakes may lead your device to death.
Update : In the above-mentioned procedure, IMEI of the device will be erased and it will become 000000000000000. Users who have paid (6 USD through PayPal or Rs. 300 through payumoney) for the unlocking code , those devices IMEI will be fixed remotely. Also, in above mentioned procedure, reset button will not work.
Update: Those users who don't want to erase the NV-RAM, have to pay Rs. 500. Your device will be unlocked remotely without erasing any IMEI or serial no. Also, our team will provide you unlock and data lock code for future use. This facility is available for Indian customers only.
Update: Unlimited unlocking license of Huawei E5573s is also available for Rs. 5000 or 100USD. NV-RAM will be totally safe after unlocking of the device.
Update: If the device is asking for unlock code then there is no need to process as mentioned above. You can directly place the order at Huawei server.