Desktop background slideshow or desktop wallpaper slideshow feature was introduced by Microsoft in Windows 7 first. This feature allows you to configure Windows to automatically rotate desktop background at the pre-defined time interval. Means, you can select a lot of wallpapers and enable desktop slideshow feature to automatically change desktop background every minute/ 10 minutes / 30 minutes / 1 hour / day. By this way, you will see the different wallpaper on your desktop every time you turn on your PC.
The desktop slideshow feature is also available in Windows 10 but it is not easily visible because of the omission of the classic personalization window. The desktop slideshow feature that was introduced first in Windows 7, has now been moved to the new Settings app.
How to configure Desktop background slideshow in Windows 10?
1. Right-click on the empty area of Windows 10 desktop and then click "Personalize" to open Personalization section of Settings app.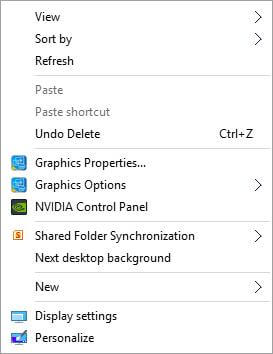 2. Under Background, select Slideshow from the drop-down menu to enable desktop background slideshow feature.
3. Click the button "Browse" under "Choose albums for slideshow", and then select a picture folder that you want to see as desktop background are saved.
Note: All photos in the selected folder will be used to decor your desktop background.
4. Now, you have to select a time interval for automatically changing desktop background, and "choose a fit" for desktop wallpaper. By default, Windows 10 rotates background picture every 30 minutes but you can change its value to 1 minute / 10 minutes / 1 hour / 6 hours / 24 hours.
5. By default, Windows 10 desktop wallpaper slideshow feature will be turned off when on battery. If you want Windows 10 to automatically change the desktop background when your PC is running on battery too, turn on the option labelled Allow slideshow when on battery.
Once desktop background slideshow is turned on, you can quickly switch to the next background in the queue by right-clicking on the desktop and then selecting Next desktop background option.