Microsoft had removed Start menu / button in Windows 8, but again in Windows 10 it introduced. But various users are facing various types of problems in Windows 10 start menu, it doesn't open when you press the Windows logo key or click the Start button on the taskbar. Sometimes start menu's search does not work and sometimes live tiles on the Start menu show blank tiles. Some users are getting randomly popping up Start menu at times for no reason. Users are reporting the problems to Microsoft and the firm has fixed many of the common issues, but still problems are available with the Start menu.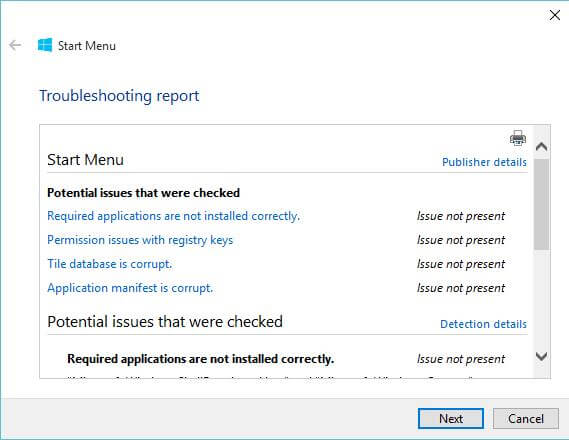 As above mentioned that Microsoft is well aware of these issues, and now released a tool to troubleshoot or repair the Start Menu to fix the common issues in Windows 10.
Start menu troubleshooter / repair is a free utility for Windows 10 to fix Start menu issues. With the help of this application, you can fix common issues like "Start menu" is not opening, apps are not showing in Start menu and blank tiles.
When you run the troubleshooter on your Windows 10 PC, it checks if required applications such as "Microsoft.Windows.ShellExperienceHost" and "Microsoft.Windows.Cortana" applications installed correctly; the current user has permissions to access the following registry key: HKCU:\Software\Microsoft\Windows\CurrentVersion\DeviceAccess\Global; Tile database is corrupt; and Application manifest is corrupt.
How to fix start menu problems in Windows 10?
1. Download start menu fixer and run it.
2. Click the Next button to let the troubleshooter search for Start menu problems.
3. If there is an issue with the Start menu, it will fix it automatically. If no problems found, you will see "Troubleshooting couldn't identify the problem".
4. You can click "View detailed information" link to see potential issues that were checked and action taken.
You can download Start Menu Fixer from here.