Pokki is a freeware software, which is developed for the purpose of reverting Start Menu (Classic menu) and Start Button back in Windows 8 and Win 8.1 Operating Systems.
If you are running Win 8 / 8.1 then you may face trouble in Start screen as Microsoft has officially removed Start Button in Windows 8 operating system, but again reverted back with Windows 8.1, but still instead of 'Classic Menu', it shows Start Screen.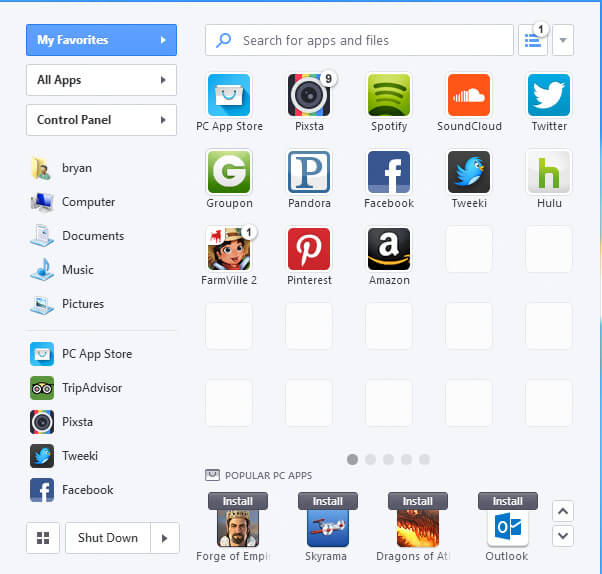 Classic Shell is the best free application to get Start Button and Start Screen in Windows 8 as well as Win 8.1, however, Pokki can be used as alternate if you want different look start menu.
Pokki does not replace the default start button of Windows 8.1, but adds a Pokki Icon next to it. At any time, if you want to remove the Start Button, just right-click the Pokki icon > deselect the "Show Windows logo" option.
The Pokki menu is actually not the classic start menu, which you were earlier used in older version of Windows. The modified Pokki menu is bigger and better than what you have ever used. On the left-hand side, it has quick navigation links to favourites, all apps, Control Panel, along with a customisable list of locations such as Libraries, Documents, etc.
To tweak this menu, right-click the Pokki icon, and go to Settings; make the desired changes as you like. Pokki comes with some advertisement, if you don't want these ads, uncheck "Show popular PC apps" to remove the ads at the bottom.
The customizable Pokki, lets you choose the theme, show or hide the left sidebar, choose which quick-links show up in the sidebar, change the Pokki icon to a walnut, home or the Windows logo, etc. There are various customisation options.
It also comes with Search enabled; to access your apps, files, control panel, and power options with Pokki's Windows 8 Start Menu. Pin and organize your favorite apps and websites just like you would on your smartphone.
In my opinion, you should give a try to Pokki, as it is a free application and can be downloaded from here.