Huawei Mobile Partner is a software that is essential to communicate with PC. Without mobile partner, your dongle is unusable, since it comes with drivers. I had already posted some day ago about Huawei Mobile Partner 23 dashboard with all Indian network profile enabled. Today again I have come with the latest Huawei Mobile partner, in this there is no inbuilt profile is available.
You might already know that the latest Huawei Mobile Partner software comes with various bugs fixed and also it is very helpful to unlock the latest Huawei dongle. Another benefit of keeping latest Huawei mobile partner software is that you can use all Huawei modems with only one software.
Features of Original Huawei Mobile Partner 23 Dashboard Update for Windows
1. Latest Huawei Mobile Partner 23 comes with three different skins.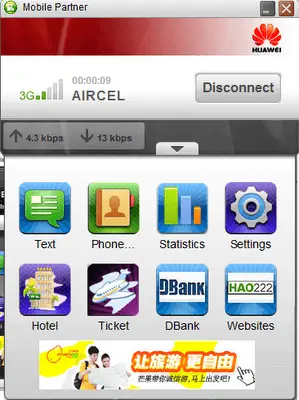 2. It is portable and easy to use
3. Latest Huawei mobile partner software requires less amount of RAM.
4. User-Friendly New Interface.
5. Supports All Huawei Modems.
6. It comes with different looks.
7. It comes with automatic APN of Indian Network providers.
8. Free of cost.
9. Latest drivers.
When so many features are available in the latest version of Huawei mobile partner software then why you are still using old Huawei mobile partner. Just go ahead to download and update your PC with the latest software to enjoy uninterpreted service.
Download Huawei Mobile Partner v23.001.07.12.910 with Indian Profiles enabled – For Windows, MAC and Linux
Download Huawei Mobile Partner v23.001.07.12.910 with Indian Profiles enabled – For Windows and Linux
Download Official Dashboard Huawei 23.009.09.00.983 for Windows 8 Free (33.5MB)