Oppo – the manufacturer of its latest N1 flagship smartphone, has released a firmware update, can be downloaded from the link which is provided at the end of the article.
The N1 phone has been manufactured by Oppo company, is based on its ColorOS – modified Android Operating System, sports a quad-core, 1.7 GHz Qualcomm Snapdragon 600 processor with 2 GB of RAM, with either 16 or 32 GB of internal storage, and uses a 5.9-inch 1080x1920p IPS display. The Oppo N1 boast 13 MP rotating camera, the camera itself can be swiveled up to 206 degrees, allowing it to be used as either a front-facing or rear-facing camera.
The Oppo, manufacturer of N1 phone has released a firmware update on 20/03/2014, of 775 MB size. after updating the N1 firmware, your device will updated with version N1_12_A.09_140320.
ColorOS additional functions on Oppo N1 Firmware Update :
Optimizes call performance and solves the static noise issue in some regions
Solves the issue of abnormal data display after some cities are added to the weather app
Solves the issue of abnormal holiday display for some regions in the calendar app
Fix the problem of setting the default region based on the sim card in the Getting Started Guide
Fix the storage status random display errors in the phonebook
Note : Firmware update of Oppo N1 process will erase all your phone data, please backup your data before the update.
How to backup Oppo N1 Smartphone, before proceeding to firmware update :
1. Find application 'My Backup' at Play Store, Click Install.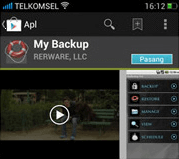 2. After installation, run the app "My Backup".
3. Click 'Agree' for licence agreement of the software.
4. Click Cancel on the password dialog box.
5. Click on Ok to continue.
6. Run the app can click Backup.
7. Click on 'Data'.
8. Click 'local' for the backup to the backup folder.
9. Check the items, which you want to backup.
10. Input the folder name for backup file and click OK.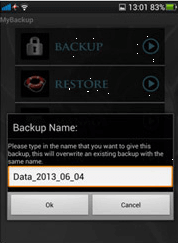 11. Now your data will backed up online and you will get a message 'Done'.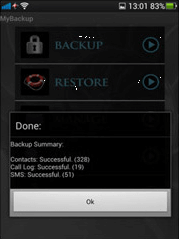 Now you have successfully backed up data of your Oppo N1 handset, now you can update the firmware of N1 from the link which is provided below.
Download Oppo N1 Firmware Update v N1_12_A.09_140320