For those who own a ZTE modem and wanted to make ISO file for his dashboard or connection manager must download ZTE ISO Dumper tool. I found over the internet and the ZTE ISO dumper is very good for ZTE modems. If you will search the internet there is so many free application for Huawei modem is available. But, there is a few support available for ZTE devices.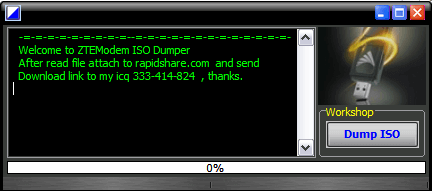 This freeware is very small and has been created by MKey Team – Modem Unlock Key Team, so you can not doubt about this tool that it will work or not for you. It will work 100%. Just go ahead and follow the instruction as stated.
This tool is free of charge and very simple to use also. Just download this file from the link which is provided at the end of the article. Insert your modem to PC, disconnect from the internet and close the dashboard or Connection Manager of your ZTE modem. Run the downloaded tool. Now to create an iso file of your dashboard simply click on Dump ISO. Within a few second ISO file will be created on your specified path.