Huawei has updated his Huawei dashboard tool to v0.0.0.8 and can be downloaded the same from the link which is provided below. It is an essential app for those users, who are using a Huawei dongle.
As said above, Huawei dashboard tool very important, as it can create and change your Huawei Modem Dashboard completely. I have personally tested this software and created dashboard through this tool. Updated the various dongle and all are working fine without any issues.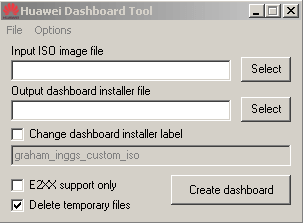 How to create a setup file from ISO for Huawei Modem :
1. Download any Huawei dashboard from the internet or just copy dashboard from your Huawei modem and put in a folder.
2. If the downloaded file is already in .iso format then continue with next step. If the file is not in an ISO format then use folder2iso freeware tool to create an ISO file.
3. Once you have created ISO file, run the Huawei Dashboard tool which you have already downloaded.
4. Click on Select button of "Input ISO image file" and select your .iso file from your PC.
5. Click Select button of "Output dashboard installer file" and select the output path where you want to keep new dashboard .exe file.
6. After all the above step click on "Create dashboard" button.
7. After a few minutes, you will have a .exe file, which you can see in the specified location.
How to install or update the dashboard / connection manager of your Huawei Modem?
1. Plug your Huawei modem to Windows computer using USB.
2. Let it install all the drivers and software which is required to run the data card.
3. Disconnect the internet if already connected and close the software of modem.
4. Double click on the dashboard which you have already created.
5. Select the radio button  "I accept the agreement" and click on Next button. It will search your modem port on which your modem is connected.
6. Click on next button and its will start downloading the dashboard in your modem.
7. After a few seconds, you will get finish button. Click on Finish button.
8. Now your Huawei modem has a new dashboard according to your choice.
9. Now eject the modem from PC and connect again.
10. Open the virtual CD-ROM and install the new Huawei mobile partner in your Windows computer.
Note : Before doing this process make sure that battery is full. Do not shutdown or log off your PC, otherwise, your Huawei modem may be corrupt. By doing this process your warranty will be lost.