From this post, you can get the original firmware of Huawei Aircel E303S dongle. The E303s modem comes with the attractive dual color gray and white, supports download speed up to 7.2mbps and upload speed up to 5.76Mbps. The new Aircel Huawei E303S modem Hardware Version is CH2E303SM and software or dashboard Version is 21.005.20.02.850.
Features and Specification:
Plug and Play USB 2.0
3G UMTS / HSDPA / HSUPA on 2100 MHz
2G GSM / GPRS / EDGE on 850/900/1800/1900 MHz
Data Speed , Download Speed : 7.2Mbps
HSUPA Upload Speed: 5.76Mbps
Micro SD Memory Card Slot up to 32gb
Supported Systems Windows XP, Windows Vista SP1/SP2,
Windows 7, Mac OS X 10.5 and 10.6 with latest upgrades
Equalizer
Universal Support All SIM Card
Data and SMS service
Size Dimensions: 85x28x12 mm
Wt : 20g
Warranty : 1 Year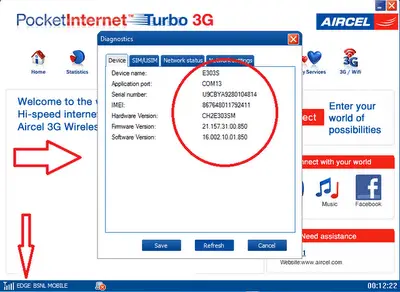 Users who have lost dashboard and want the original dashboard of Aircel E303s dongle can download from the link which is provided at the end of the article. In this dashboard, many bugs has been fixed. We have also provided the original firmware link (V21.157.31.00.850) of E303 Aircel dongle, which is approx 10.3MB in size. Users who are facing the problem with his latest Huawei Aircel E303S can flash with original firmware. Finally, there is also a dashboard link of Huawei Mobile partner with auto APN facility.
Users who keep changing network provider sim and don't want to create a profile they can download. The both dashboards can be used with any other Huawei Company modems also.